The 8 Most Inexpensive 4 Inch Centerset Faucets You Can Purchase at Home Depot In 2018
When it comes to a simple faucet replacement at a customer's home, we often recommend they purchase their own so they can choose the finish, the style, and the price they are willing to pay. Faucets like the Chrome TableTop King on Amazon will set you back almost $2,000.00. The Kohler Revival Centerset in Vibrant Brushed Nickel on Build.com is over $1,000.00. And the Commercial Moen Rothbury Low-Arc Bathroom Lavatory Faucet at Home Depot is more expensive than a round trip flight from LAX to New York as of the writing of this article. Most of our customers probably aren't looking to spend that kind of money on a simple faucet replacement. With that in mind, we decided to do a roundup of the least expensive 4 inch widespread faucets our local Home Depot in sunny Southern California has to offer in stock, off the shelf, ready to go (pricing and availability vary from town to town). We will start with a rundown of the "winners", and follow up with articles on unboxing each one, average reviews, and more to help you decide to "start doing" and replace that outdated, broken, or ugly old faucet with a new faucet on a budget!
1. The $11.78 Faucet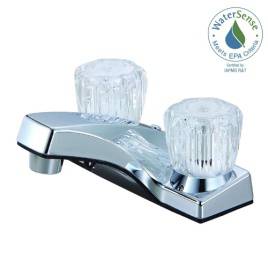 Coming in at $11.78 is the least expensive of the bunch, a non-branded 4 inch faucet with 2 acrylic handles in chrome. It's simple, it's cheap, it's shiny and it will do in a pinch. It probably won't win any beauty contests or last forever.
https://www.homedepot.com/p/4-in-Centerset-Non-Metallic-2-Handle-Bathroom-Faucet-in-Chrome-HS4121110CPa/303679874
2. Glacier Bay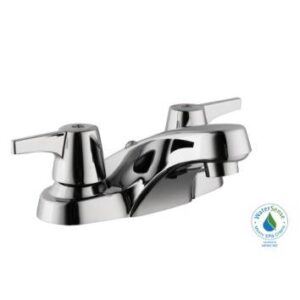 Glacier Bay, Home Depot's "generic" brand of low-cost faucets, has a two handle chrome faucet (Aragon) with pop-up drain included at $18.46. The handles on this 4 inch faucet are a bit more ADA friendly (lever rather than knob) than our first faucet and the included pop-up adds extra value to our #2 entry.
https://www.homedepot.com/p/Glacier-Bay-Aragon-4-in-Centerset-2-Handle-Low-Arc-Bathroom-Faucet-without-Pop-Up-Drain-in-Chrome-HD67090W-5A01/304163631
3. Delta Foundations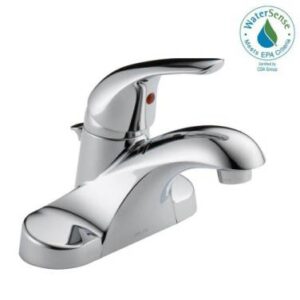 The Foundations 4 inch centerset single-handle bathroom faucet in chrome by Delta comes in at $48.00. It has a sleeker design, and the single handle allows for easy temperature mixing at a very affordable price. The pop up drain included in the package matches the finish, and if you really want Brushed Nickel they do offer it for $11.00 more. The unit comes with Delta Faucet's Lifetime Limited Warranty.
https://www.homedepot.com/p/Delta-Foundations-4-in-Centerset-Single-Handle-Bathroom-Faucet-in-Chrome-B510LF-PPU-ECO/206438779
4. & 5. WE HAVE A TIE! Moen Adler and Pfister Courant
Both the Moen Adler 4 inch Centerset Chrome on Chrome and the Pfister Courant 4 inch Centerset 2 handle Chrome with White Handles come in at $49.00 and include pop up drains.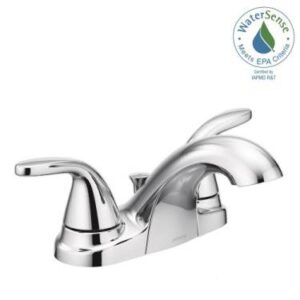 The Moen returns us to a 2 handle configuration, requiring Hot/Cold adjustments from the user. It is a sleeker/curvier model compared to the earlier Glacier Bay model we looked at, and includes Moen's Duralast 1234 Cartridges in the handles for long lasting care free operation. On a personal note, Moen is a brand we often recommend to customers as there warranty seems hassle free for life and they really seem to help us out whenever we have an issue with a repair (like cartridge information, old models, etc.)
https://www.homedepot.com/p/MOEN-Adler-4-in-Centerset-2-Handle-Bathroom-Faucet-in-Chrome-84603/300213946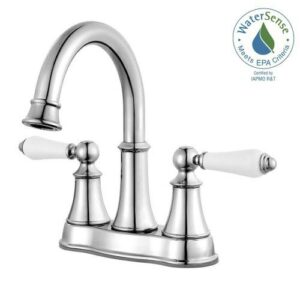 The Pfister model steps up the style level, including white inserts for the handles, and taller arching spout to give you some height from the basin, and the "Pforever" warranty on function and finish for life. The arched spout does swivel, which may or may not be something the user desires depending on who is using the basin (little kids?). Unfortunately, unlike some higher priced versions, this model does not come with optional inserts, like chrome, for the handles. The 3 hole widespread model will run you $79.00.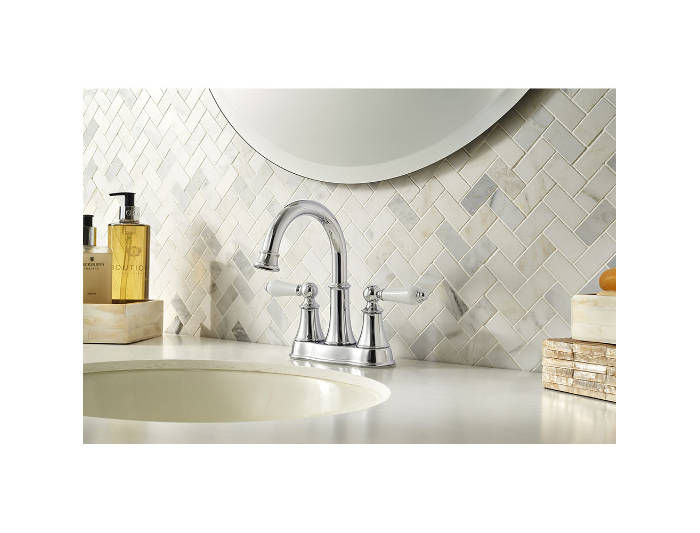 https://www.homedepot.com/p/Pfister-Courant-4-in-Centerset-2-Handle-Bathroom-Faucet-in-Polished-Chrome-with-White-Handles-LF-048-COPC/206414777
6. American Standard Chatfield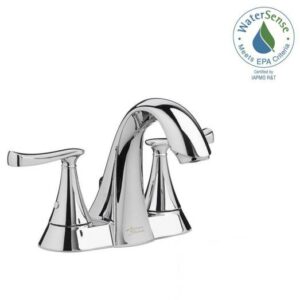 Chatfield 4 in. Centerset 2-Handle Bathroom Faucet in Polished Chrome by American Standard is available for $59.00, a recently lowered price. With 336 reviews on Home Depot's site, it maintains a 4.5 out of 5. It is a nice looking faucet, with "sleek" flared handles and a very shiny chrome finish. At this point, I am disappointed there aren't a few more single handle options at the base price faucets we are looking at, but it isn't a deal breaker for most consumers.
https://www.homedepot.com/p/American-Standard-Chatfield-4-in-Centerset-2-Handle-Bathroom-Faucet-in-Polished-Chrome-7413201-002/206310460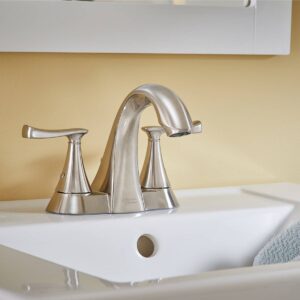 7. Kohler Willamette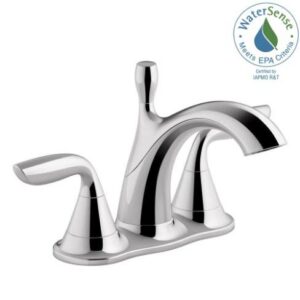 Kohler, a brand we definitely trust when it comes to their toilets, comes in at $69.00 for their Willamette 2 handle chrome 4 inch faucet. Kohler, in this model, delivers an affordable faucet, which looks and feels heavy, durable and designer. It is also the first to give a "faux" widespread look on our list, with the base connecting the 2 handles and spout almost flat to the deck. 4.5 out of 5 stars on Home Depot's website (22 reviews).
https://www.homedepot.com/p/KOHLER-Willamette-4-in-Centerset-2-Handle-Water-Saving-Bathroom-Faucet-in-Polished-Chrome-K-R99900-4D-CP/205387586
8. Grohe Veletto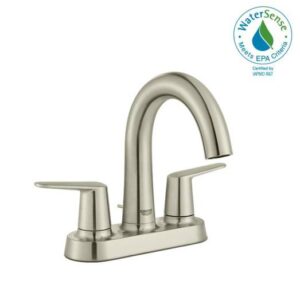 Grohe! A company with a history of quality, but that can come at a price. For Grohe's entry to our list, you will be bumping up against the $100 mark ($99) for their Veletto 4 in. Centerset Two-Handle High-Spout Bathroom Faucet in Brushed Nickel. This is also the first brushed nickel faucet on our list. The style and handles are a bit more tubular/angular, and the model comes with a tall spout similar to the Pfister. They do offer it in chrome, but it is not an in-store item and would save you $10.00. Grohe claims their "Starlight" finish has 10 times more scratch resistance than conventional PVD (physical vapor deposition) finishes.
https://www.homedepot.com/p/Veletto-4-in-Centerset-Two-Handle-High-Spout-Bathroom-Faucet-in-Brushed-Nickel-20582EN0/303430797
As you can see you have 8 different options for in-store affordability in the "under $100" 4 inch spread bathroom faucet zone, each from a unique manufacturer. They come with various levels of quality internally (cartridges, components), some without pop-ups, mostly in chrome and most have 2 handles. Each manufacturer also offers some sort of warranty, some more inclusive than others. We will start the unboxing and detailed descriptions of each faucet next, and try to go into more detail about availabilities, reviews, pros and cons and help you make a decision on what faucet fits your design AND budget.