Ahh, the fresh outdoors! When it comes to sprinklers & drip systems, Edward's Enterprises can help our customers with:
Relocation of sprinkler heads

Irrigation design to fit your lawn

PVC pipe & fitting repairs

Palm frond piles taken away

Timers adjusted or fine-tuned

Manual control valves repaired

Fertilizer injector installed

Timer synched across lawn spaces

Valve, head & system leaks

System repairs (piping, heads, wiring)

Installing new sprinkler systems

Over ground drip tubing repairs

Drip emitter & mister line replacement

Adjustments to pop-up heads & bubblers

Water backflow control installs

Punch-in 1/4 drip lines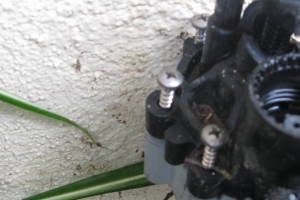 The right watering system can go a long way towards ensuring your green thumb efforts. Sprinklers are a practical, attractive addition to landscapes across the country. Arranged well, they bring life to many lawns. Their systems provide essential water & timers with the convenience of not having to manually spray water ourselves. When adding or renovating a sprinkler system, pay attention to your landscaping. This includes your plants & flowers–it would be a waste to spray more water on flowers than on high water-need shrubs! Don't skimp on preparation & you'll enjoy your sprinkler system for years to come!

We want to talk with you about your front walk sprinkler repair ideas. Try us by phone to go over the details of your drip system conversion or sprinkler system removal plans!