Glad you asked! The Edward's Enterprises company offers a variety of furniture assembly & hanging artwork such as:
Assembling outdoor furniture

Build pre-fab desks & chairs

Hanging dry erase boards

Hanging flat screen TV's

Tables & cabinets assembled

Assemble complicated furniture

Setup modular furniture

Hanging mirrors

Staging & moving cubicles

Hanging artwork

Hang up retail signage

Beds & dressers set up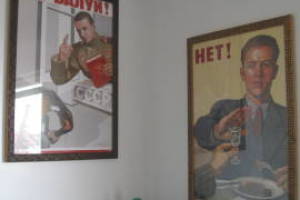 Bought a new desk & need help assembling it & getting rid of the old one? Never liked where that large TV is currently located? We'll wall-hang or move home theater furniture systems while securing bookcases for earthquakes at affordable hourly rates. Getting rid of cubicles, moving offices, downsizing or rearranging the office floor plan? Offices can be more efficient with proper cubicle system setups & safely installed furniture, so take advantage of our services & don't spend the weekend laboring away with those heavy objects!

Not sure if we can handle putting together your furnishings? Call our office to discuss your furniture assembly or artwork hanging installation needs!