In-Depth: Pfister Courant Faucet
To continue our discussion of faucets up for review, we have the Courant from Pfister.
A Brief History of Pfister
Pfister is a long standing company, originally founded in 1910 as Price Pfister by Emily Price and William Pfister. Originally the company only made a garden faucet, but over the first decade expanded to include plumbing fixtures, indoor sinks, bathtubs, and other types of faucets. During both World Wars the company continued to produce plumbing fixtures, but also made military items such as grenade shells.
The company was bought by Isadore Familian in 1941 and became a household name by focusing on residential products, especially their Crown Jewel faucet line. Eventually they built a 25-acre manufacturing plant in Pacoima, California, making them the largest foundry west of the Mississippi River. The products are now produced in Mexicali, Mexico.
In 1989 Price Pfister was acquired by the Black and Decker Corporation, in and the name was changed to simply Pfister after the 2010 acquisition of the Black and Decker by Stanley. As of 2012 Pfister is owned by Spectrum Brands Holdings Incorporated.
Design and Aesthetic
Pfister describes the Courant faucet as a traditional design that will work well in a wide array of bathroom styles. We reviewed the polished chrome with white handles. The elegance of this style would go great in several bathroom designs, whether you are restoring an older home or creating your own spa in a new build.
The Courant Faucet comes in four colors. Besides the polished chrome, it is also offered in rustic bronze, brushed nickel, and Tuscan bronze. The prices range from 59.00-129.00, with polished chrome being the least expensive and rustic bronze costing the most.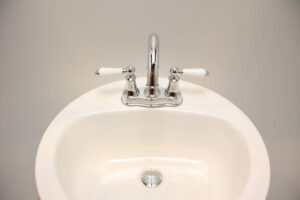 Complementary Fixtures
If you are looking for complimentary fixtures to round out the design in your bathroom I recommend something with rounded edges and a classic design. Even in a polished chrome finish, sharp edges would not fit with the Pfister Courant model.
Specifically in the Courant family, you can also find a wide set faucet and a single hand shower faucet and shower head. Also available is the larger 8-inch version of the same style by Pfister for only 20.00 more at Home Depot. It comes in all of the same colors except for rustic bronze.
If you are looking for a faucet that has the same feel but in a different color, the Moen Caldwell Spot Resist Centerset faucet comes in a variety of colors to suit your style. It will cost you about 30.00 more than the Pfister Courant, though, and is available at both Home Depot and Lowes.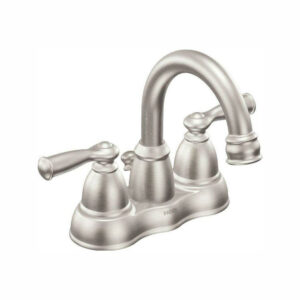 This set by Kohler, includes a towel rack, hand towel hook, and toilet paper holder. The Auden set by Pfister would also be a good fit.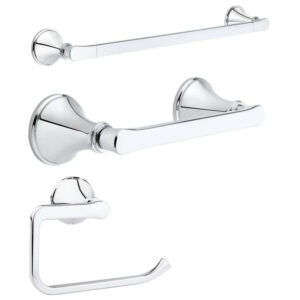 Can I Get It Anywhere Else Besides Home Depot?
Yes! You can find the Pfister Courant Centerset faucet at the following locations online. It is noted on each whether or not they also sell it in store.
Water Usage
The Courant Faucet by Pfister either meets or exceeds the WaterSense standards, which will reduce you water consumption by up to 30%. It is also rated to meet or exceed the CAL Green criteria, which requires that it helps to conserve water in your home by up to 20%.
Special Features
The faucet comes with a swivel spout, it can turn a full 360º to allow for maximum use. It also includes a push and seal drain, which requires no tools to install, and guarantees a tight seal for every use.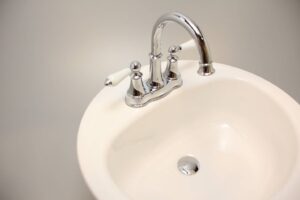 Additional Materials / Tools
To put this faucet together you will need an adjustable wrench set or fixed wrench set, caulk and caulk gun, all trades slip joint pliers, a paint scraper, and a EZ change faucet tool. This is all according to the instructions found on Home Depot's website.
You will also need to purchase a ½ inch supply line connector to install the faucet, such as this one found at Home Depot.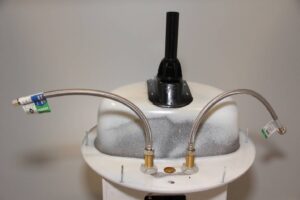 The following video makes for a great reference when installing the faucet:
Return Policy & Warranty
Home Depot has a 90 day return policy on items that are unopened and have valid proof of purchase. If you do not have proof of purchase it can often be found in the system within 90 days if you purchased your item with a credit card, debit card, or check. If you purchased your item with an official Home Depot credit card you can return your item for up to 365 days.
As for the faucet itself, it comes with the Lifetime Pforever Warranty, which covers 'finish and function for life'. This includes as long as the original purchaser owns the home if installed by yourself. If it is commercially installed the warranty is good for 10 years after the date of purchase.
The warranty covers the finish of the product and any defects in material or workmanship that would cause problems with the intended use of the faucet.
Manuals
There are several manuals that come with the faucet as well as can be found online. This includes an installation guide, assembly guide, and use and care manual.