Installing A Backyard Fire Pit
If you love to sit around in the evening relaxing in your yard, why not add another dimension to your enjoyment by installing a fire pit? Follow this guide, and you'll soon have a fire pit to call your own.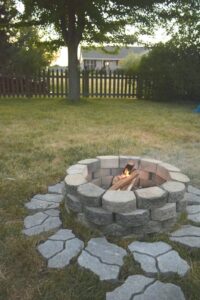 Steps:
When selecting a location be sure that it is away from any combustibles such as bushes, sheds, low-hanging branches, etc.
To lay out the fire pit begin at the center, paint a 5 foot diameter circle by using a string as a compass. Place a stake in the center of the pit with a string tied to it, tie the other end of the string to the spray can and paint the circle.
Repeat this process at with a 3 foot diameter circle for the actual pit.
Finally, mark a 12 foot diameter circle for the seating area.
With the location laid out, dig out the footer for both the inner and outer walls of the pit. Dig between the 3 and 5 foot circles to 5 to 6 inches deep. Mix the fast-set concrete according to directions in a wheelbarrow and fill the circle with concrete. Be sure the top is smooth and level. Most fast-set concrete takes about 12 hour to set-up.
Separate the stones into face and cap stones while the concrete sets. The smooth stones are for the top of the pit, the others are for the walls.
Begin laying the stone in a ring, following the outer edge of the footing. Once the first ring is complete ring is complete, lay a ring of fire brick (on their edge, so they stand three-inches high) around the inner ring of the pit.
Continue laying rings of stone on top of each other along with continuing to lay courses of fire brick. Be sure to keep everything level by choosing stones that fit cut them if they do not fit. Avoid laying diagonal and vertical stones, they will aesthetically look bad and cause instability in the wall.
Once the stone and fire brick are completed to the height you require, use scrap stone and mortar to fill any void between the fire brick and stone walls. Be sure the walls are totally solid prior to capping the fire pit.
Lay out the cap stones on the top of the wall in dry-stack to make certain everything fits. If needed, cut individual stones to fit. Once you've got a good fit, mortar the stones into place.
Dig out the grass in the area inside the 12-foot circle you painted, and lay down landscape cloth. Fill the area with gravel. Furnish with some outdoor furniture and begin to enjoy.