Cleaning Your Previous Tenant's Items
Before you're ready to accept a new tenant, here are three things you will need to think about:
1. How soon do I need to have the items removed?
If you're in a hurry to have the junk removed from your property, it would be wise to call us. We'll be able to assist you quickly, and on time. If this is not the case however, going through the items to see if there's anything you can keep or give away is sensible—after all, not everything is worthless. Afterwards, we can help clear up everything else.
2. How many items did your tenant leave behind?
It might be worth taking care of what your tenant left if there isn't much or the items are small, as the money you'd pay isn't worth the short amount of time it would take you. However, if that isn't the case, give us a call. You might not have the time, or the items are too large or numerous. Our crew will do all of the heavy lifting, as well as the loading and disposing.
3. Should I remove the cost of removing these items from my tenant's deposit?
At the end of the day, it really depends on what your contract states. Generally, the answer to that question will be yes, and to make sure the deposit will cover the entire cost of removing their items.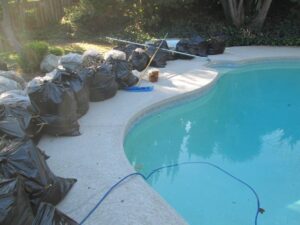 It's better to be prepared when it comes to these things. You'll never know how soon a new tenant will be available, and so it's best to be ready for them. We'll be able to haul away leftover items and move them to a suitable location so you can be ready for what you decide.