Edward's Enterprises can assist our Oxnard customers with their packing & clean out needs like:
Packing & unpacking help

Boxing up items for storage

Garage & shed clean outs

Retail store fixture clean ups

Move in & move out help

Resetting office desks & cubicles.

Help moving to new home or condo

Moving items from a storage unit

Rental home clean outs

Attic & basement clean-ups

Junk removed from storage

Rearranging storage units

Taking items to a charity

Bringing items to a landfill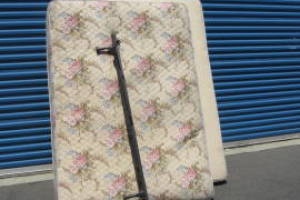 Our moving & clean-out services extend to the outside of your home or office as well. Moving from point A to point B sounds simple enough. Many times you are moving only a couple of rooms, maybe a small townhouse or condo. Often, a small U-Haul or Ryder truck will do the trick, but do you want to spend your weekend carrying heavy furniture & boxes up & down stairs, ramps, & down the street?

We may not be the #1 search result for Junk Hauling Service on Google but we are ready to talk to you about your next home clean out or retail store de-branding. Pick up the phone & call us to discuss your move out or cubicle move project!
Oxnard Community Center

Oxnard Community Center
800 Hobson Way
Oxnard, CA 93030
(805) 385-8149

For more information, check out Oxnard Community Center Online.
Local Oxnard Farmers Market

Downtown Oxnard Farmers Market
471 S. B Street
Oxnard, CA 93030
(805) 247-0197

For more information, check out Oxnard Farmers Market Online.
Before a clean out – be a detective for your valuables!

Go through all boxes, closets, shelves, any & all hiding places meticulously to secure all valuables. Prevent throwing out that priceless photograph because it was in the coupon drawer.

Most importantly, be sure you have all valuable & important documents accounted for: tax returns, trusts, life insurance policies, real estate deeds, titles, obtain recent bank statements, wills, diplomas & receipts.

Put aside enough time to go through pockets, drawers, old furniture – you will be glad you did!
Keene's
301 West Pleasant Valley Road
Oxnard, CA 93033
Local Oxnard Paint Recycling

Dunn-Edwards
685 E. Ventura Blvd
Oxnard, CA 93036
(805) 981-2990

For more information, check out Oxnard Paint Recycling Online.