Edward's Enterprises performs many wood & composite deck repairs in Camarillo such as:
New decks installed

Dry rot deck repairs

Refinishing decking

Painting decking

Replacing bad deck posts

Repairing deck railings

Adding deck stair lighting

Replacing deck shade covers

Deck cloth sails installed

Moving deck receptacles

Re-supporting sagging decks

Fixing sun damaged decks

Pressure washing decks

Coating old deck planking

Adding deck privacy lattice

Swapping wood with composite decking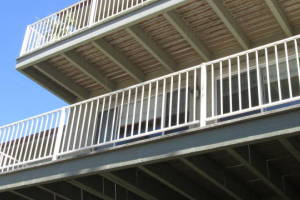 For more space to live or work, a deck addition is a solid solution. It provides (literal) breathing room in a natural, familiar setting. Handrails & wall guards can provide safety, convenience, & comfort when properly maintained for everyday life outside when you need it.

Wondering if we can assist you with your wood deck replacement? Call our team to explain your deck repair project goals!
Camarillo Community Center

PV Recreation & Park District
1605 E. Burnley Street
Camarillo, CA 93010
(805) 482-1996

For more information, check out Camarillo Community Center Online.
Local Camarillo Farmers Market

Camarillo Farmers Market
2220 Ventura Blvd
Camarillo, CA 93010
(805) 386-3584

For more information, check out Camarillo Farmers Market Online.
There are many different ways to clean a deck, some of these depend on the type of wood.

The first cleaning option is to use a weakened solution of TSP (trisodium phosphate) which you can purchase from any paint shop. Add a little bit of household washing-up liquid & then first try it on a sample area, once you see how it reacts then use it on the rest of the deck.

The next option is to use a weak solution of citric acid to help brighten up old grayed timbers. However, do not use chlorine-based bleaches because even though they will rid your deck of algae & mildew, they will also break down the lignin in the deck timber.

Another option is to use Hydrogen Peroxide, which will lighten old timbers & evaporates away leaving no residue.

After you have cleaned your deck & brightened it up if wanted, then it is time for the sealing. Use a waterproof deck sealer because it will repel water & make the desk last longer. To apply the sealer, use a pad with a little reservoir & brush the sealer on. Make sure to evenly coat it all over the deck surface & then let it dry. After about an hour or so of drying time, buff the surface to remove wet excess.