Edward's Enterprises team performs many wooden subfloor repairs in Los Angeles (Westside) such as:
Wood sub floor installed

Particle board subfloor replaced

Subfloor wood tear out

Mobile home subfloor repairs

Modular home floor insulation fixed

Trailer home under wrap repaired

Floor joist repairs

Water damage repair

Squeaky wood floors fixed

Wood blocking installed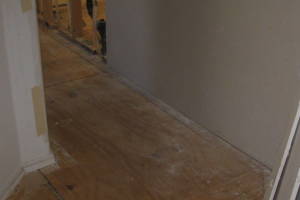 With over 20 years in the home improvement trade we have the perspective & know-how critical to carrying out projects of any size, including your next wood subfloor repair.

Wondering if we can assist you with your wood sub floor replacement? Call our team to explain your subfloor installation project!
Los Angeles (Westside) Resources

Los Angeles (Westside) DIY Help
Some of the common problems with sub flooring include the floor sinking, creaking, popping & an uneven floor. A sinking floor means that the floor is not as strong as it used to be & may feel soft or spongy.

Water or moisture can also cause the floor to sag. Creaking or pooping is common in older homes. This means that the subflooring is not secured to the underlying joists. At this point you should either replace it with thicker panels or install wider joists. An uneven floor may be the effect of the foundation or support walls settling.

Another reason for uneven floors is water damage. All of these may lead to the subflooring needing repair or replacement.
Anawalt Lumber, Hardware & Nursery in West Los Angeles
11060 West Pico Boulevard
Los Angeles, CA 90064
Click
here
to contact them for help with your DIY project!
Local West Los Angeles Paint Recycling

Dunn Edwards
11710 Santa Monica Blvd.
Los Angeles, CA 90025
(310) 481-0841

For more information, check out West Los Angeles Paint Recycling Online.