Regarding rain gutter cleaning, Edward's Enterprises can help our Los Angeles (Westside) customers with:
Rain gutter cleaning

Minor rain gutter repairs

Gutter sealing, & removal

Downspouts reattached

Downspout clogs cleared

Roof drains & gutters cleared

Patio cover gutters installed

Rain diverters installed

Raingutter screens installed

Mobile home awnings cleaned off

Aluminum patio cleaning

Gutter drains cleared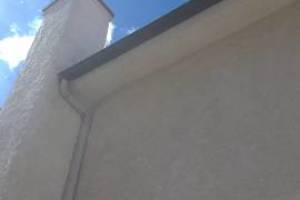 Clogged downspouts can back up water onto your rooftop, causing leaks & debris to back up along valleys. Loose & rotting fascia can let your gutters come loose in a rainstorm or heavy wind & come crashing down. Years of accumulated debris can weigh down a gutter, allowing water to come sheeting over the top during the rainy season.

We want to talk with you about your rain gutter cleaning ideas. Try us by phone to go over the details of your patio cover gutter cleaning or rain gutter screen removal plans!
Los Angeles (Westside) Resources

DIY Los Angeles (Westside) Assistance
WHAT TO EXPECT:

As you search for the best suited team of experts to clean or repair your installed rain gutters, be aware of the fact that different companies have varying ideas of what clean gutters should look like. We at Edward's Enterprises have the years in experience to set high quality standards for our residential & commercial customers. It takes time to gather the amount of experience that Edward's Enterprises has at its disposal–and it sets us apart from the competition. You know what you want & we have the know-how & the tools to make it happen.

IT'S IN THE DETAILS:

It takes a team of highly-trained technicians to be able to resolve unexpected problems & go above-and-beyond your set of expectations. Edward's Enterprises employs only the finest & most-skilled technicians so that when they interact with the delicate parts of your home, you have a sense of comfort in knowing that the gutters are being cleaned & your roof's tiles will be left intact.
Anawalt Lumber, Hardware & Nursery in West Los Angeles
11060 West Pico Boulevard
Los Angeles, CA 90064
Click
here
to contact them for help with your DIY project!
Local West Los Angeles Paint Recycling

Dunn Edwards
11710 Santa Monica Blvd.
Los Angeles, CA 90025
(310) 481-0841

For more information, check out West Los Angeles Paint Recycling Online.