Edward's Enterprises can assist our customers with their Oxnard backyard clean out & yardwaste hauling needs like:
Residential yard clean ups

Commercial planter trash removal

Old planter beds removed

Bushes cut down & back

Ground cover cleared out

Sod cut & hauled away

Small stumps & roots dug up

Side yard buildup removed

Left over trimmings hauled

Haul old cut branches

Palm frond piles taken away

Bark raked & hauled

Old deck removal & hauling

Patio covers taken down

Gazebos demoed & hauled

Spas & jacuzzis cut up & hauled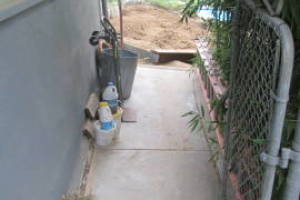 Many customers dream of a cleaner yard but hate to imagine dealing with all of the garbage, toys, & junk that has accumulated over the years in their side yard. Planning to upgrade your garden vegetable patch? Edward's Enterprises cannot only help you install new sod & watering systems, but we can clean out any debris & green waste that stands in your way. We are here to clear out yard trimmings, commercial yard lots, over-capacity garden sheds, & much more!

We are ready to talk to you about your next backyard hauling job. Pick up the phone & call us to discuss greenwaste hauling or landscaping tear outs!
Oxnard Community Center

Oxnard Community Center
800 Hobson Way
Oxnard, CA 93030
(805) 385-8149

For more information, check out Oxnard Community Center Online.
Local Oxnard Farmers Market

Downtown Oxnard Farmers Market
471 S. B Street
Oxnard, CA 93030
(805) 247-0197

For more information, check out Oxnard Farmers Market Online.
Yard waste ready for pick up?

Make sure yard waste is free of items such as metal, food waste, garbage, soil, sod, stones & palms from palm trees. Yard waste can include items such as: leaves, hedge & tree trimmings/branches, house & garden plants, garden trimmings, brush, lawn edging (earth removed), grass clippings. This helps the facility more efficiently recycle the yard waste.
Keene's
301 West Pleasant Valley Road
Oxnard, CA 93033
Local Oxnard Paint Recycling

Dunn-Edwards
685 E. Ventura Blvd
Oxnard, CA 93036
(805) 981-2990

For more information, check out Oxnard Paint Recycling Online.