The team at Edward's Enterprises patches drywall, textures walls & more in Porter Ranch including:
Water damaged drywall replaced

Wall & ceiling texture spray

Settling wall cracks repaired

Ceiling texture re-sprayed

Prime raw dry wall for paint

Dry-wall prep before wallpaper

1/2 Drywall installations

5/8 Fireboard repairs

Purple/green board replaced

Minor plaster repair

Small sheetrock hole patches

Orange peel texture spray

Medium texture retouched

Knockdown bathroom texture

Bedroom acoustic ceiling spray

Install plywood over drywall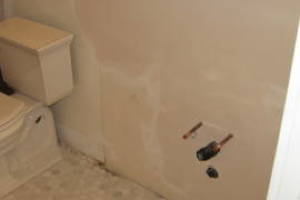 Maybe you recently put in new lights, or a new speaker cable. We can come in & patch & repair these cuts, slots & channels.

If the repair is on a wall with any of the common textures on it (Orange Peel, Medium, Heavy, Knockdown) have no fear. We can match the repaired section to the existing texture (no patch is ever going to match the existing area 100%, but we can get it pretty close).

Find out how we can help with your next drywall fix. Contact our office to go over your next dry-wall repair project!
When it comes to wall patching, the first step is preparation. Some suggestions include to remove the furniture from the room so that it does not get in the way, as well as, does not accidentally get debris (or texture spray) on it.

If you are unable to remove the furniture you can cluster it into one corner (or the center of room) & cover it. Next, vacuum the room to create a clean work area. Then cover the floor with drop cloths so that no debris ruins the floor (and this prevents spray from settling on ground).

Also, take down any draperies or drapery hardware, & loosen light fixtures & wrap plastic bags around them. Lastly, remove any wall plates from electrical outlets & switches.
Granada Hills Hardware
16223 Devonshire St.
Granada Hills, CA 91344
Call 1-818-810-5115 to contact them for help with your DIY project!
Local Porter Ranch Paint Recycling

Sherwin-Williams
10230 Mason Avenue
Chatsworth, CA 91311
(818) 995-1651

For more information, check out Porter Ranch Paint Recycling Online.