Regarding low voltage lighting systems, Edward's Enterprises can help our Camarillo customers with:
Timers installed & adjusted

Low voltage cables replaced

Spot & path lights installed

Lamp bulbs & sockets replaced

Install post lights

Replace carriage lights

Solar landscape lighting installed

Up lighting installed at trees

Malibu & other brands serviced

Outages investigated

Light transformers reset

Spot lighting added for security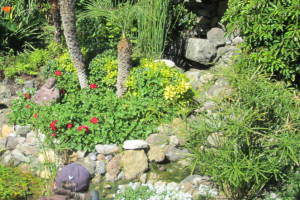 Whether you have a large or small property, lighting can be the perfect enhancement to welcome you & your family home. We work with brands like Malibu, Hampton Bay, Smart Solar, Duracell, & Lithonia Lighting. Little do homeowners know, light can transform your home. We provide simple to complex designs that will create a lush effect without having to do a total remodel! Is your landscape lighting system properly wired & timed?

We want to talk with you about your poolside lighting repair ideas. Try us by phone to go over the details of your low voltage LED conversion or accent lighting removal plans!
Camarillo Community Center

PV Recreation & Park District
1605 E. Burnley Street
Camarillo, CA 93010
(805) 482-1996

For more information, check out Camarillo Community Center Online.
Local Camarillo Farmers Market

Camarillo Farmers Market
2220 Ventura Blvd
Camarillo, CA 93010
(805) 386-3584

For more information, check out Camarillo Farmers Market Online.
Other than replacement, landscape lighting fixtures have a fairly low need for maintenance. Landscape lights can be cleaned when they become dirty. First, use a dry cloth & wipe away any loose dirt & debris. Then, use a bucket full of water & a small amount of dish detergent to wipe off the fixtures. Finally, use clean water to rinse off the soapy mixture. If dirt is tough to get off, you can use a soft bristled brush to remove dirt from crevices & hard to reach areas. If this still does not work, then use a Magic Eraser to remove stubborn dirt & grime. Afterwards, dry the fixtures thoroughly with a clean towel.

Often people would like to know how their lighting system is controlled. The answer is a timer which is located inside the transformer controls the system. You are able to set desired on & off times & can also manually over ride the system with a simple flip of a switch. A quick tip to remember is that landscape fixtures are supposed to be replaced after an average life of 2000 hours. With this being said, it is important to monitor your lighting system & determine how often you use your lamps.