The Edward's Enterprises company handles a variety of drop ceiling tile & grid repairs such as:
Acoustic ceiling tiles installed

Drywall ceiling tiles replaced

Drywall ceiling repaired

Drop ceiling grid modified

Ceiling lighting replaced

Ceiling grid painted

Replacing ceiling insulation

Remove water damaged ceiling tile

Painting drop ceiling

Ceiling grid installed

Drywall ceiling repairs

Remove ceiling grid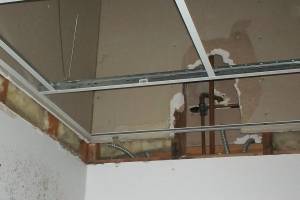 Need to install an access panel at your home or office to get to problematic plumbing, electrical or HVAC lines? Maybe your ceiling just needs a new coat of paint. Need a few new drop-ceiling panels installed where some were affected by water damage, or some loose T Bar resecured? We can handle ceiling repairs, installations, & projects of all shapes & sizes.

Not sure if we can help modifying your drop ceiling grid? Call our office to discuss your acoustic tile replacement or installation needs!
DIY Help Near Sherman Oaks
Sherman Oaks Community Center

Van Nuys/Sherman Oaks
14201 Huston St
Sherman Oaks, CA 91423
(818) 783-5121

For more information, check out Sherman Oaks Community Center Online.
Local Sherman Oaks Farmers Market

Studio City Farmers Market
12000 Ventura Place
Studio City, CA 91604
(818) 655-7744

For more information, check out Sherman Oaks Farmers Market Online.
No mater what material the ceiling tiles are made of–tin, uncoated, sheetrock, vinyl coated, or porous, they can all be cleaned fairly easily about twice a month. First, dust the ceiling tiles to remove dirt particles & get rid of cobwebs.

Next, vacuum the ceiling tiles. You can use a brush attachment & make sure to reach the corners. Third, mix a dishwashing liquid with water. Use a sponge & scrub the tiles. Then, scrape off rust with steel wool if you have tin tiles. If you have uncoated ceiling tiles then paint them with acoustical tile paint such as Majic's to cover up any stains.
Ace Hardware
13241 Ventura Boulevard
Studio City, CA 91604
Click
here
to contact them for help with your DIY project!
Local Sherman Oaks Paint Recycling

Vista Paint
5840 Sepulveda Blvd
Sherman Oaks, CA 91411
(818) 787-7991

For more information, check out Sherman Oaks Paint Recycling Online.