Edward's Enterprises Plumbing in Sherman Oaks offers both garbage disposal installations & repairs including:
In-Sink-Erator disposals installed

Garbage disposals unclogged

Disposal power cords wired

Disposal power resets

Plumbing new garbage disposals

Clearing disposal jams

Fixing leaking garbage disposals

Waste King & Whirlpool disposals installed

Kitchen Aid & General Electric disposals replaced

Installing disposal power plug

Garbage disposal drain repairs

3/4 HP Badger 5XP supplied & installed

1/2 HP Badger 5 supplied & installed

Commercial garbage disposals replaced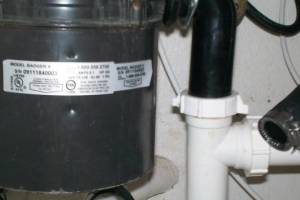 Our many years handling garbage disposal service calls in the home & office improvement trade gives us the tools, materials & know-how critical to carrying out many types of garbage disposal service calls; from connecting a simple disposal dishwasher drain line to installing a new electrical box to replace a hardwired sink disposer & upgrading to a larger horse power garbage disposal unit (supplied by us like a In-Sink-Erator or a different brand supplied by our customer).

Need to find out if we can help with your kitchen garbage disposal replacement? Call our office to discuss your new In-Sink-Erator garbage disposal installation plans!