Edward's Enterprises Plumbing in Camarillo offers both garbage disposal installations & repairs including:
In-Sink-Erator disposals installed

Garbage disposals unclogged

Disposal power cords wired

Disposal power resets

Plumbing new garbage disposals

Clearing food waste disposal jams

Fixing leaking garbage disposals

Waste King & Whirlpool disposals installed

Kitchen Aid & General Electric disposals replaced

Installing disposal power plug

Garbage disposal drain repairs

3/4 HP Badger 5XP supplied & installed

1/2 HP Badger 5 supplied & installed

Install a garbage disposal in a commercial location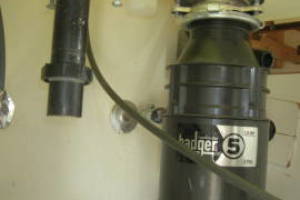 Our many years handling garbage disposal service calls in the home & office improvement trade gives us the tools, materials & know-how to carry out all types of garbage disposal work!

Past jobs include connecting a simple disposal dishwasher drain line, installing a new electrical box to replace a hardwired sink disposer & upgrading to a more powerful & quiet garbage disposal unit (supplied by us like a In-Sink-Erator or a different brand supplied by our customer).

Need to find out if we can help with your Camarillo kitchen garbage disposal replacement? Call our office to discuss your new In-Sink-Erator garbage disposal installation plans!
Camarillo Community Center

PV Recreation & Park District
1605 E. Burnley Street
Camarillo, CA 93010
(805) 482-1996

For more information, check out Camarillo Community Center Online.
Local Camarillo Farmers Market

Camarillo Farmers Market
2220 Ventura Blvd
Camarillo, CA 93010
(805) 386-3584

For more information, check out Camarillo Farmers Market Online.
You may be wondering which food waste disposal to buy & why? Some standard concerns include the price, size, noise level & any special concerns. A key concern is horsepower.


1/3 Horsepower:
Pros: Great for temporary or limited use. Inexpensive.
Cons: They get easily jammed & can rust out in the quickest amount of time


1/2 Horsepower:
Pros: Affordable & compact, so they fit easily into tight spaces. This option is great for people who do not use their garbage disposal all the time & do not over feed it.
Cons: Usually the minimum horse power recommended for a typical home. However, this level of horsepower tends to have a high noise level.


3/4 Horsepower:
Pros: This size serves most homes well. They have plenty of power & will not get jammed as easily as less powerful disposals. Also, many 3/4 garbage disposals offer sound protection.
Cons: These are a bit larger than the 1/2 horsepower disposals & this should be taken into consideration for proper fitting under your sink. Slightly expensive depending on features.


1 Horsepower:
Pros: This is the top of the line strength garbage disposal & it can end up being even quieter than the 3/4 horsepower models. This level will most likely feature a stainless steel grinding chamber & will be fairly impossible to jam.
Cons: High Cost. Size, which may take up a majority of the room under your sink. They also may consume slightly more electricity than the other models on this list.


Remember: no matter which disposal unit you install, it is critical to run water while these units are on to help the food go down!