Regarding sprinklers & drip systems, Edward's Enterprises can help our Oxnard customers with:
System repairs (piping, heads, wiring)

Installing new sprinkler systems

Over ground drip tubing repairs

Drip emitter & mister line replacement

Adjustments to pop-up heads & bubblers

Water backflow control installs

Punch-in 1/4 drip lines

Relocation of sprinkler heads

Irrigation design to fit your lawn

PVC pipe & fitting repairs

Palm frond piles taken away

Timers adjusted or fine-tuned

Manual control valves repaired

Fertilizer injector installed

Timer synched across lawn spaces

Valve, head & system leaks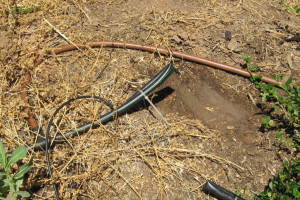 The right watering system can go a long way towards ensuring your green thumb efforts. Sprinklers are a practical, attractive addition to landscapes across the country. Arranged well, they bring life to many lawns. Their systems provide essential water & timers with the convenience of not having to manually spray water ourselves. When adding or renovating a sprinkler system, pay attention to your landscaping. This includes your plants & flowers–it would be a waste to spray more water on flowers than on high water-need shrubs! Don't skimp on preparation & you'll enjoy your sprinkler system for years to come!

We want to talk with you about your front walk sprinkler repair ideas. Try us by phone to go over the details of your drip system conversion or sprinkler system removal plans!
Oxnard Community Center

Oxnard Community Center
800 Hobson Way
Oxnard, CA 93030
(805) 385-8149

For more information, check out Oxnard Community Center Online.
Local Oxnard Farmers Market

Downtown Oxnard Farmers Market
471 S. B Street
Oxnard, CA 93030
(805) 247-0197

For more information, check out Oxnard Farmers Market Online.
Many people would like to know what are the components to an automatic sprinkler system. A typical system includes a controller, valves & sprinklers. The controller is basically the brains of the operation. The valves open & close to release & stop the flow of water from the underground pipes. The sprinklers distribute water to specific areas. These are simply the basics because the system can also include rain shut off devices, soil moisture sensors & drip irrigation zones.

A question that is often asked is will an automatic sprinkler system water as evenly & use more water than if done by hand? The answer is yes & no. Yes, the sprinkler system will water as evenly & No the system will not use more water. Sprinkler systems are designed based on your landscapes diverse watering needs & are custom to your particular situation. This means that they are set up to water every part of your lawn evenly. These systems will save water at the same time because they only water where it is needed & are designed to apply water exactly where it needs to go.
Keene's
301 West Pleasant Valley Road
Oxnard, CA 93033
Local Oxnard Paint Recycling

Dunn-Edwards
685 E. Ventura Blvd
Oxnard, CA 93036
(805) 981-2990

For more information, check out Oxnard Paint Recycling Online.