The Edward's Enterprises team in Los Angeles (Westside) install & repair bathroom exhaust fans consisting of:
Home bathroom exhaust fan repairs

Office bathroom fan installations

Bathroom ventilation fan replacements

Quiet exhaust fans installed

Exhaust fans ducted outside

Heater & fan combo fans installed

Exhaust fan switch installed

Bath fan & light combination install

Replace exhaust fan motors

Replace bathroom fan ducting

Increase air flow bath fan

Bathroom ventilation repairs

Assemble & install new fan

Install gable attic fans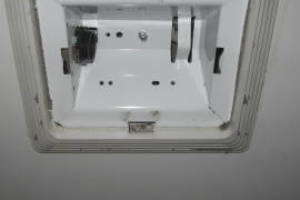 Your existing bathroom exhaust fan may be loud, broken, or too small to really reduce the moisture in the bathroom & prevent damage & mildew. Your kitchen hood may be too loud, or you may only have a passive vent.

Bathroom ventilation fan repairs can be a DIY project, but can also be time consuming & complicated for many of our customers. In order to upgrade, install or repair the ceiling exhaust fan in your home or office bathroom, call our team now!
Los Angeles (Westside) Resources

Los Angeles (Westside) DIY Assistance
Cleaning Exhaust fans is a chore that only needs to be done about twice a year. It can increase the flow of air dramatically & aid in venting steam & odors. A good cleaning can also prevent dust & dirt build up. Before you start cleaning, it is important to be aware of the safety warnings & precautions

First off, shut off the power to the unit before attempting to remove & clean it. Second, wear eye protection & gloves during this project. Third, if there are any major damages, seek professional help with repairs.


(Step 1) is to turn off the power to the exhaust fan. This will be located at the main circuit breaker.

(Step 2) is to use a drill or screwdriver to remove the screws that hold the exhaust fan's outer vented cover.

(Step 3) is to set aside the vent cover & locate the exhaust fan blade. Detach any additional screws that might be holding the actual fan in place & then slide the fan blade assembly out.

(Step 4) is to clean the vent cover. This can be done using a mild soap & water solution. Wipe away dirt & built up debris, & then dry it with a soft cloth.

(Step 5) is to use a small amount of window or mild kitchen cleaner to remove any unwanted mildew, dirt or debris from the fan blades. Make sure to clean both sides of the blades.

(Step 6) is to reinstall the unit, which can be done in the reverse order we used to dismantle the exhaust fan.
Anawalt Lumber, Hardware & Nursery in West Los Angeles
11060 West Pico Boulevard
Los Angeles, CA 90064
Click
here
to contact them for help with your DIY project!
Local West Los Angeles Paint Recycling

Dunn Edwards
11710 Santa Monica Blvd.
Los Angeles, CA 90025
(310) 481-0841

For more information, check out West Los Angeles Paint Recycling Online.