Edward's Enterprises team performs many wood patio cover repairs in Los Angeles (Westside) such as:
Wood patio covers installed

Shade cover installations

Painting patio covers

Remove falling covers

Modify existing cover

Minor aluminum cover repairs

Swapping out rotten posts

Installing new fascia

Dry-rot awning repair

Sun damage repairs

Store bought gazebo assembly

Arbor & Pergolas repaired

Replacing cover slats

Replacing aluminum cover pans

Cleaning out aluminum cover gutters

Pressure washing awnings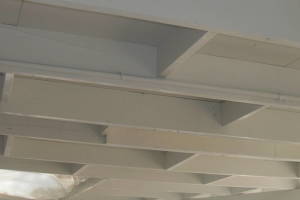 An off the shelf awning or gazebo can be perfect for social gatherings; whether for the kids, family, or friends. A patio cover is also a great home investment whether now or for resale. Not only do we build patio covers from scratch, we also can help you revive your existing shade structure with paint, structure renovation, or even a simple pressure wash!

Wondering if we can assist you with your gazebo replacement? Call our team to explain your wood patio cover installation project goals!
Los Angeles (Westside) Resources

Los Angeles (Westside) DIY Help
Cleaning & maintaining a stained & sealed (rather than a painted) patio cover or gazebo is very important so that the structure holds up well over the years & lasts a long time. There are different ways & methods to clean or preserve a shade structure; some of these depend on the type of material used to create the patio. These include wood, concrete, tile, stone, brick & many more.

A good option to start with is usually used on wood patios, & it uses a weakened solution of TSP (trisodium phosphate) which you can purchase from any paint shop. Add a little bit of household washing-up liquid & then first try it on a sample area, once you see how it reacts then use it on the rest of the patio.

The next option is to use a weak solution of citric acid to help brighten up old grayed timbers. However, do not use chlorine based bleaches because even though they will rid your patio of algae & mildew, they will also break down the lignin in the deck timber.

After you have cleaned your patio & brightened it up as wanted, then it is time for the sealing. Use a waterproof patio sealer because it will repel water & make the patio last longer. To apply the sealer, use a pad with a little reservoir & brush the sealer on. Make sure to evenly coat it all over the patio surface & then let it dry. After about an hour or so of drying time, buff the surface to remove wet excess.
Anawalt Lumber, Hardware & Nursery in West Los Angeles
11060 West Pico Boulevard
Los Angeles, CA 90064
Click
here
to contact them for help with your DIY project!
Local West Los Angeles Paint Recycling

Dunn Edwards
11710 Santa Monica Blvd.
Los Angeles, CA 90025
(310) 481-0841

For more information, check out West Los Angeles Paint Recycling Online.