Plastic panel replacement services in Canoga Park
We replace drop ceiling plexi glass panels
Light panel diffusers installed
Professional cleaning:

- Acrylic & plexi covers, panels, and displays; Plexiglas skylight covers
We source plastic replacements for:
- cracked Plexiglas light covers, yellowed, and worn out plastic panels
Acrylic shelves fabricated and installed for various needs
Lexan or acrylic fabricated projects installed
Our acrylic supplier offers:
- clear, smoke, and a selection of colors
Let us handle your unique acrylic or plexi projects
***please note before calling***
We are a service company, not a plastic retailer or distributor.
WE DO NOT SELL OR STOCK SHEETS OF PLASTIC
call 818-639-2441 to schedule service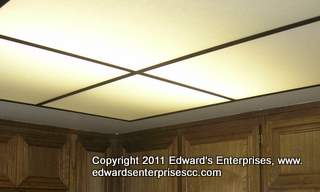 Our Remodel and Repair Services are available throughout Canoga Park 91303, 91304, 91306 and 91307
we can handle many types of acrylic projects in Canoga Park
Acrylic Repairs by Edward's Enterprises, where we work to restore Canoga Park homes and businesses to full working order by delivering on everyday repair needs.
Acrylic is a wise choice to replace glass in some situations. Plexiglas is used in homes to diffuse light in the bathroom or utilized in kitchen drop ceilings. Both reach a point at which replacement is required due to age deterioration from sunlight or heat.

Clear Cracked Ice, White Cracked Ice and Prismatic Plexiglas (or plexiglass) panels can become yellow and brittle over time from exposure to sunlight, heat, or age. They may start out very flexible but become brittle and crack from cleaning or movement over time. We can assist you in cleaning or replacing plexiglas panels in your home or office to keep them fresh and white or clear!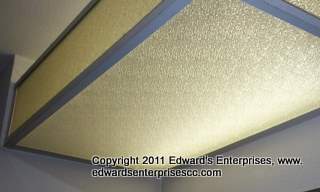 How can we help you with your next Acrylic or Plexi Panel Replacements and Installs project?

-Edward Flanagan, Owner
General Contractor License B 857752, Insured
reasons to call us for Canoga Park acrylic and plexiglas services
Edward's Enterprises has been providing Canoga Park Acrylic or Plexi Panel Replacements and Installs to our customers nearly 20 years.

Licensed and Bonded since 2005 with the Contractor's State License Board (B 857752).

Insured to protect our valued customers and employees.

We have the tools and skills to complete most Canoga Park home, office and shopping center hourly service calls.

Acrylic or Plexi Panel Replacements and Installs are completed by our staff in the field and in the office.
Typical rates we charge for Canoga Park plexi-panel installation and cleaning services
$99.00* for the 1st hour for each trip for one employee

$59.00* each hour after for one employee
These are the typical cash or check hourly rates for labor we charge our Canoga Park customers for plastic panel replacements and repairs (not including materials). Our
repairs and installations
are charged on a time and material basis. That includes all of the time for your project, including sourcing materials if they are needed.
Some plexi plastic panel jobs may be too high or too cumbersome for 1 employee to handle, so we would send 2 of our employees to your home for higher than the above rates.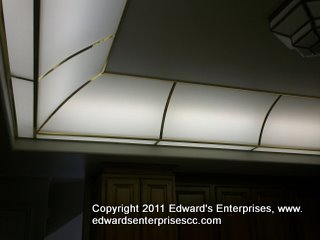 *Certain exclusions apply, such as for same-day, after hours or weekend service, or for commercial companies that are billable. Communities outside of our normal service area will be charged additional travel costs. We are happy to answer all of your pricing questions, call for details!
Acrylic and plexi-plastic projects can be scheduled for a variety of days and times
We are usually in the field Monday to Friday 7:00 am - 4:00 pm.


Emergency, WEEKEND, and After Hours pricing is available to assist our Canoga Park customer's scheduling needs.


We are open Saturdays by appointment, call for details.


It is easy to contact Edward's Enterprises for your Acrylic or Plexi Panel Replacements and Installs needs


Do you have ceiling light panels hanging down, waiting to fall on somebody's head? Let us help you today!


Appointments for our Canoga Park Acrylic or Plexi Panel Replacements and Installs services now available.
Receive our latest Canoga Park discounts and offers to your email by simply filling out our contact form!
Did You Know That?
* Plexiglass is a synthetic plastic material created by German scientists and has been mass produced since 1933. The term "plexiglass" is the common formulation of the brand name Plexiglas. Other commonly used terms for the material include "acrylic glass" or simply "acrylic". Major Brand name producers include Lucite, Perspex, Optix, and Acrylite.
* Plexiglass can also transmit light effectively, or be injected with color to give it varying spectrums of translucence fitting to your demands. It can even be coated with an Ultraviolet protective layer to lower direct UV transmission, and protect it from yellowing due to sun exposure.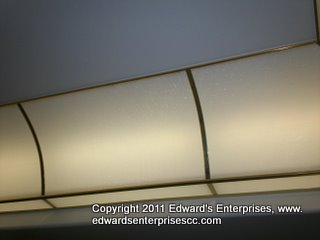 Great Tips on Plexi Plastic
When it comes to cleaning Acrylic and Plexiglas, make sure to avoid using Glass Cleaners containing ammonia, abrasive cleaners, and solvent cleaners. These chemicals have been known to cause damage. However, a safe and common cleaner is Liquid Dish-Washing Detergent. Simply add 1 tablespoon of the Detergent to approximately 1-2 gallons of water and use a soft cloth or towel to wipe the Acrylic and Plexiglass with the Detergent and Water mixture! Then rinse the glass off with clean water and dry with a fresh towel.

Have you noticed scratches on your acrylic? If so, light scratches can be buffed out using Car Wax! Lightly buff the scratched area until the blemish disappears. Another quick tip on how to avoid scratches, is to lightly rinse off the surface, if it appears to be dirty or gritty, before cleaning the Acrylic or PlexiGlas. This can help to avoid rubbing in dirt and grit into the surface and leading to scratches.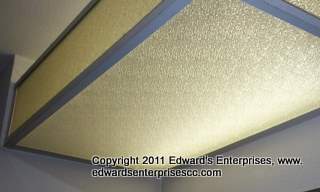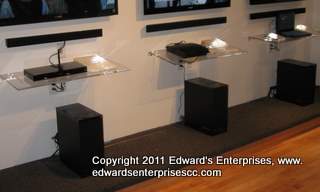 Canoga Park is a great place to live because…
the High School graduation rate is at 70% (5% higher than the rest of Los Angeles)
the Cost of Living Index is 9% lower than the rest of Los Angeles
the Median Rental Rate is $ 954 (11% lower than rest of Los Angeles)
the Average Commute Time is 31 minutes (6% lower than other Los Angeles areas)
Overall, Canoga Park offers its residents many local amenities, great weather, and a stable housing market.

For more information about Canoga Park, visit AreaVibes.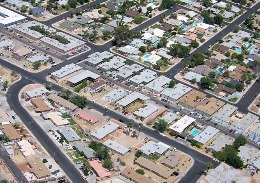 Reviews of Edward's Enterprises from recent customer surveys
"Thank you so much for your professionalism, promptness and efficiency!! Good job all the way around! I'm so happy that I've found my new Handyman Service!"
Tina I.; Residential Customer