New closet build-outs
Closet organizers, shelving and poles:
repaired
replaced
installed
assembled
removed
Repairs to master bedroom, hallway, and walk-in organizers
Sliding and bi-fold closet doors replaced or repaired
Closet lighting, flooring, and door trim installed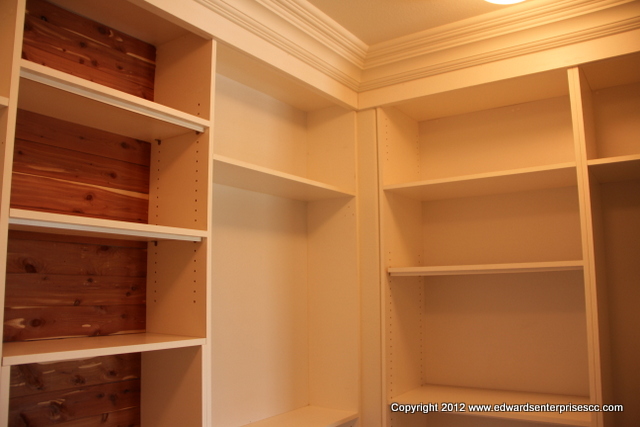 call 805-308-2441 to schedule service
Our Remodel and Repair Services are available throughout Carpinteria 93013
we can handle many types of closet rough & finish projects in Carpinteria
Carpentry Service by Edward's Enterprises, where we work with homeowners to invest in their homes and businesses by completing their next interior and exterior carpentry improvements. Our 19 years in the home & commercial repair and improvement trade gives us the perspective and know-how critical to carrying out projects of any size.
Is your closet a place of dread, fear, or horror? Or do you just want to be able to find that favorite pair of pants when you need them? Have an insured, licensed contractor and
Closet Organizer Service
handle your closet shelving and pole repairs and installations.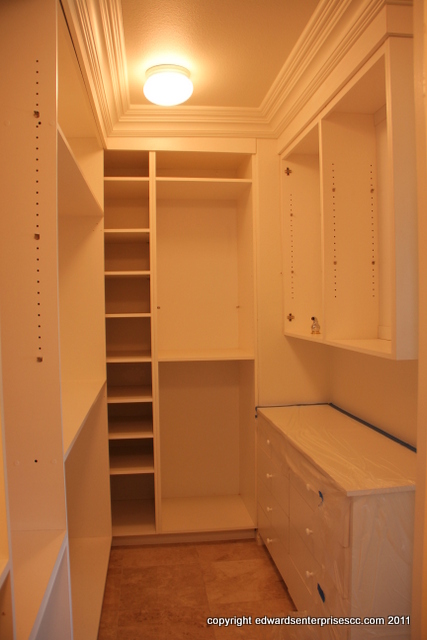 -Edward Flanagan, Owner
General Contractor License B 857752, Insured
Edward's Enterprises
General Contractor License B 857752, Insured
reasons to call us for Carpinteria closet and garage shelving projects
We have been locally owned SINCE 1996.

LICENSED (B 857752) GENERAL CONTRACTOR with the Contractor's State License Board since 2005.

INSURED: LIABILITY, WORKERS COMPENSATION, AND AUTO to protect our customers and employees.

We have the TOOLS to complete most Closet and Garage Organizer Repairs and Installs.

Closet and Garage Organizer Repairs and Installs are completed by our EXPERIENCED, LONG TERM EMPLOYEES in the field and in the office.
Usual rates we charge for closet carpentry repairs for Carpinteria
$159.00* for the first hour (each trip, 2 employees)

$99.00* an hour after that (2 employees)



These are the typical cash or check hourly rates for labor we charge our customers for closet shelving installation and repairs (not including materials). Our repairs and installations are charged on a time and material basis. That includes all of the time for your project, including sourcing materials if they are needed.

Many room organizer construction projects are too cumbersome for 1 employee to handle, so we would send 2 of our employees to your home or office for the above rates.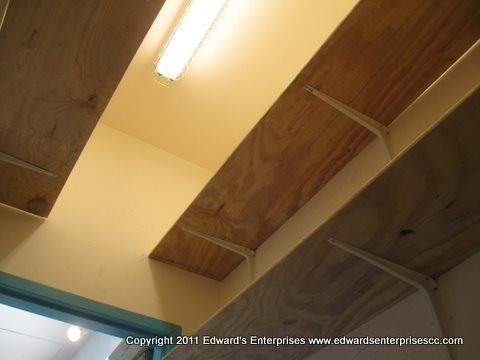 *Certain exclusions apply, such as for same-day, after hours or weekend service, or for commercial companies that are billable. Communities outside of our normal service area will be charged additional travel costs. We are happy to answer all of your pricing questions, call for details!
Projects in Carpinteria can be scheduled for a variety of days and times
We are in the field daily Monday through Friday 7:00 am - 4:00 pm based on need.


AFTER HOURS, Weekend and Emergency rates are available to assist our Carpinteria customer's scheduling needs.


We are open Saturdays by appointment, call for details.


Contact Edward's Enterprises when you need a closet or garage organizer installed or repaired


Did your closet shelf collapse? Is your straight closet pole turning into a bow? Let us help you today!


Appointments for our Carpinteria Closet and Garage Organizer Repairs and Installs services now available.
Receive our latest Carpinteria discounts and offers to your email by simply filling out our contact form!
Did You Know That?
* Proper organization will save you time and stress looking for that specific clothing item or anything else stashed away in your closet. The average person spends about 55 minutes a day searching for things they know they own but can't find. That adds up to 12 days a year!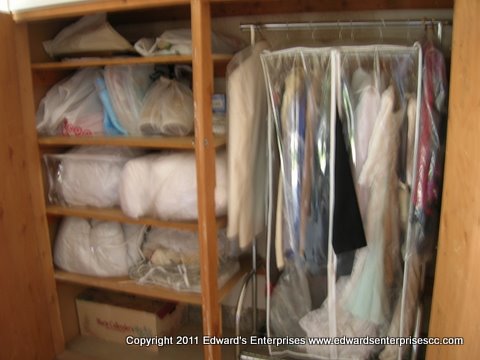 Great Tips for Closet Organizers
The first step of organizing one's closet may be installing a closet organizer into your home. These closet organizers allow you the ability to have lots of space and a clutter free zone. However, now that you have this wonderful closet organizer, you may not actually know how to organize your closet and be tempted to just throw all of your belongings into random shelves and drawers, which will not allow the closet organizer to do its intended purpose. So we have some quick tips on how to truly organize your belongings so that they maximize the space of your closet organizer.


A great tip is to distinguish your clothes into two categories: clothes that you wear, and clothes that does not fit you correctly or has not been worn in over a year. Once you have made these two piles, get rid of the second pile because it will only clutter up your area with unwanted and unneeded items. Next, if you choose to keep old shoe boxes, make sure to label them so that you can easily identify what is in each box. Or an alternative is to invest in clear shoe boxes which allow you to see what is in each box at a quick glance.


Another tip is to assess the layout of your closet and utilize every area. Identify where certain things would fit best and how you would like them to appear. For instance, do you prefer your pants folded in drawers or hung up on hangers? You can put your favorite and most frequently worn items at eye level, so that they are easily accessible. Lastly, note what season you are in, and plan accordingly. If you are in summer, you may want to hang up your summer clothes on hangers and keep your winter clothes stored in the drawers. Then once it becomes winter, you can make the switch and hang up your winter clothes and stuff the summer clothes into the drawers.
Carpinteria is a great place to live because…
the Average Commute Time is 24 minutes (17% lower than the rest of California)
the Median Housing Value is 49% higher than in other California cities at $ 669,200
the crime rate is 50% lower than the rest of California
the Average Summer Temperature is 64 degrees
Overall, Carpinteria is known for its stable housing market, sunny weather, many local amenities, and a high income per capita.

For more information about Carpinteria, visit AreaVibes.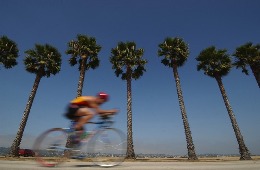 Reviews of Edward's Enterprises from recent customer surveys
"Thank you for coming so quickly to help out with an odd job that needed immediate assistance!"
Lisa B.; Isla Vista, CA