We assemble units purchased from big-box retail stores
Existing arbors repaired, painted, cleaned, or resurfaced
Slats and posts replaced
Electrical repairs, including lighting installation
We can dismantle, relocate, or haul away old arbors
Gazebo renovations, remodels, construction, and removal
Screens (aluminum or wood) and roof panels replaced
Painting and refinishing services also available
contact us at 805-987-2441 to discuss your project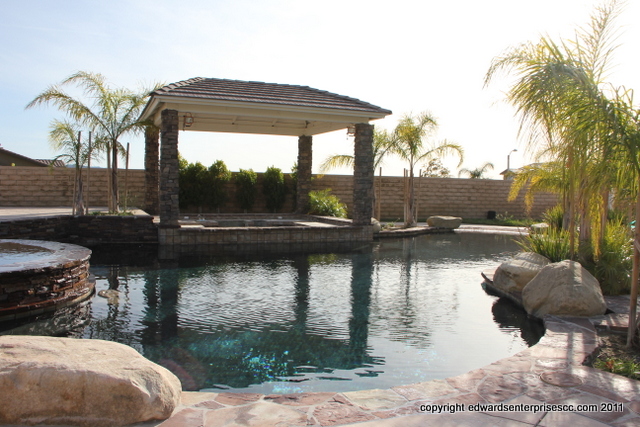 Our Remodel and Repair Services are available throughout Westlake Village 91361 and 91362
offering many types of Westlake Village cedar and redwood projects
Meet Edward's Enterprises Carpentry Service, where we work with homeowners to invest in their homes and businesses by completing their next interior and exterior carpentry improvements. Our 19 years in the home & commercial repair and improvement trade gives us the perspective and know-how critical to carrying out projects of any size; from a new entry door installation to a full-sized wooden
arbor construction
.
Construction of a Gazebo or Pergola design can be a really affordable way of bringing a little of the indoors outside. Gazebos offer a place of entertainment and relaxation for family and friends. Wooden Arbors and Gazebos can add shade and beauty to any backyard paradise or front yard!
Some gazebo designs are large enough to use as an informal dining place or even a bandstand. When planning your gazebo installation or remodel, consider how you may use it and build around that plan. Proper planning means you'll enjoy your gazebo for years to come.
They can be beautiful, but if not maintained, age can take its toll on any outdoor wood structure.
Repairs to any outdoor
wooden structure, including a gazebo, can be overlooked until you are forced to tear it down and rebuild it. A well maintained structure, on the other hand, can add value to any home.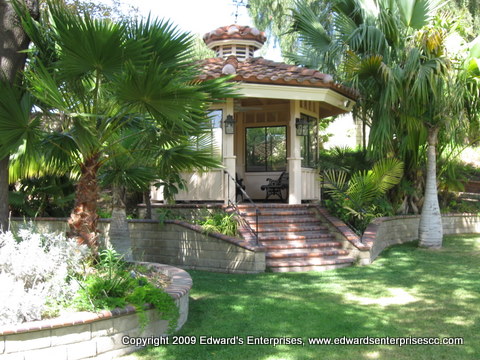 How can Edward's Enterprises help you with your next Wood Gazebos and Arbors Repaired and Painted project?

-Edward Flanagan, Owner
General Contractor License B 857752, Insured
several reasons to call us for Westlake Village arbor and gazebo repairs
We have been locally owned SINCE 1996.
LICENSED (B 857752) GENERAL CONTRACTOR with the Contractor's State License Board since 2005.
INSURED: LIABILITY, WORKERS COMPENSATION, AND AUTO to protect our customers and employees.
We have the TOOLS to complete most Wood Gazebos and Arbors Repaired and Painted jobs.
Wood Gazebos and Arbors Repaired and Painted appointments
are completed by our EXPERIENCED, LONG TERM EMPLOYEES in the field and in the office.
Usual rates we charge for fencing remodeling services in Westlake Village
$149.00* for the first hour (each trip, 2 employees)

$99.00* an hour after that (2 employees)



These are the typical cash or check hourly rates for labor we charge our customers for gazebo or pergola replacements and repairs (not including materials). Our repairs and installations are charged on a time and material basis. That includes all of the time for your project, including sourcing materials if they are needed.

Most exterior carpentry projects are too cumbersome for 1 employee to handle, so we would send 2 of our employees to your home for the above rates.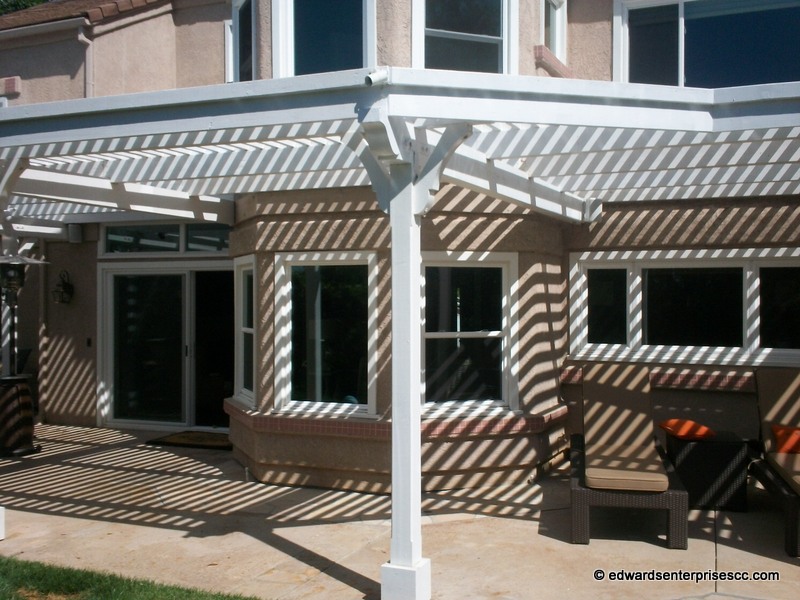 *Certain exclusions apply, such as for same-day, after hours or weekend service, or for commercial companies that are billable. Communities outside of our normal service area will be charged additional travel costs. We are happy to answer all of your pricing questions, call for details!
Remodeling Projects Can Be Scheduled For A Variety Of Days And Times
We are in the field daily Monday through Friday 7:00 am - 4:00 pm based on need.


AFTER HOURS, Weekend and Emergency rates are available to assist our Westlake Village customer's scheduling needs.


We are open Saturdays by appointment, call for details.


It is Easy To Contact Edward's Enterprises About Any Westlake Village Remodeling Project


We would love the opportunity to talk about your ideas today, so give us a call and see what Edward's Enterprises can do for you.


Appointments for our Westlake Village Wood Gazebos and Arbors Repaired and Painted services now available.
Receive our latest Westlake Village discounts and offers to your email by simply filling out our contact form!
Did You Know That?
* Gazebos have been common structures in gardens for over 5,000 years, creating the feel of peace and serenity.
* Gazebos can be built from materials such as Cedar, Pine, Vinyl, and Wrought Iron.
* Gazebos made out of Western Red Cedar possess natural oils that give it protection against insects and decay.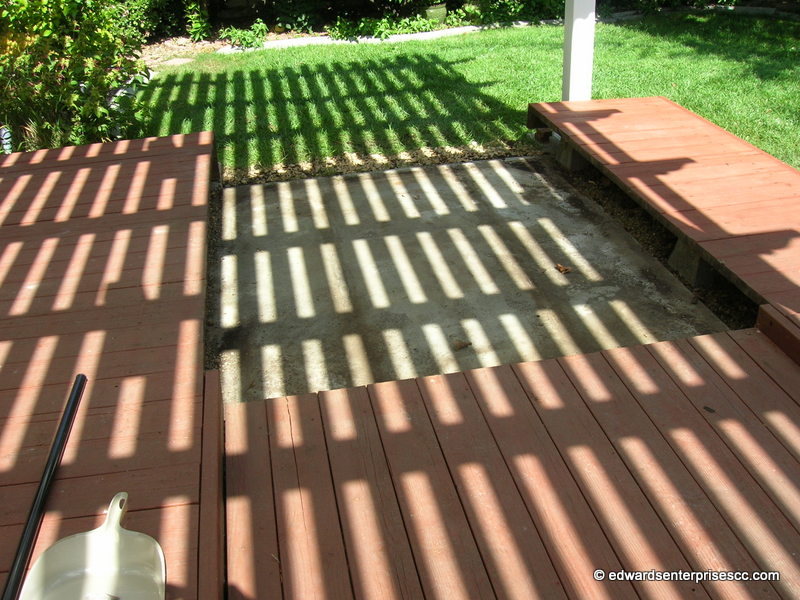 Great Tips for Maintaining Arbors and Gazebos
Taking care of your backyard Arbor or Gazebo can lead to many years of entertaining and family events around this versatile backyard fixture. An easy preventative measure includes weed control. If a homeowner maintains a path of 3-10 feet around their Gazebo, this can help protect the structure from becoming overgrown with unwanted weeds or ivy! Another tip is to remove mold and mildew when you first notice it. A quick way to do this is by mixing 1/2 cup of bleach, 1/4 cup of liquid laundry detergent and 1 gallon of hot water. Using a sponge or rag, apply the mixture to infected areas and allow it to soak in for 5-15 minutes. Then wipe down the surface, removing the mold and mildew. Once clean, rinse off the surface with a generous amount of water.

An easy tip to remember is to simply inspect your Arbor or Gazebo approximately every 6 months. Check for any loose joints, and tighten them up. Joints can be checked by tapping the nail heads with a hammer. Also, if you find any damage, make sure to replace it as soon as possible. Broken areas can lead to compromising the structure's integrity and allow termites and rot to develop. Fresh paint every 3 to 5 years can help prevent dry rot or termites from easily entering and damaging any outdoor wood structure.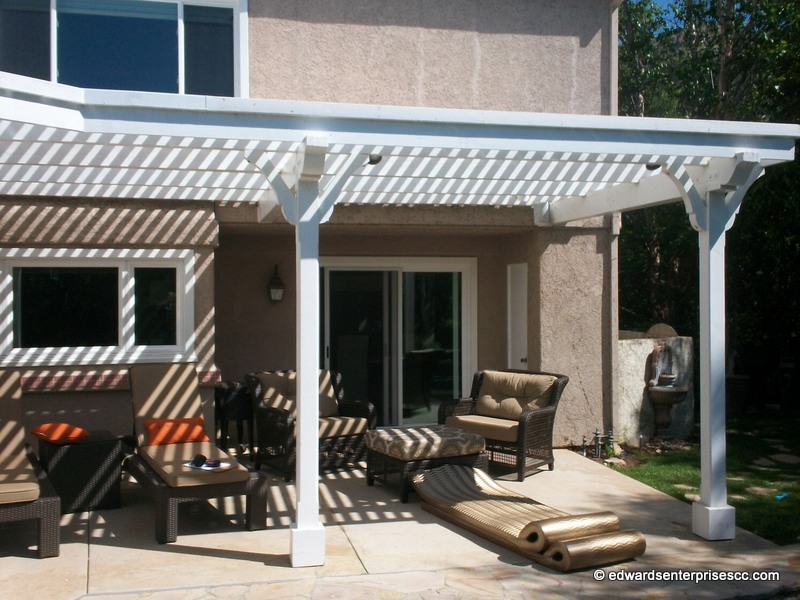 Need helpful DIY advice and availability of arbor and gazebo selection 
DIY/Do It Best Center
3775 East Thousand Oaks Boulevard
Westlake Village, CA 91362

Visit their Website Here!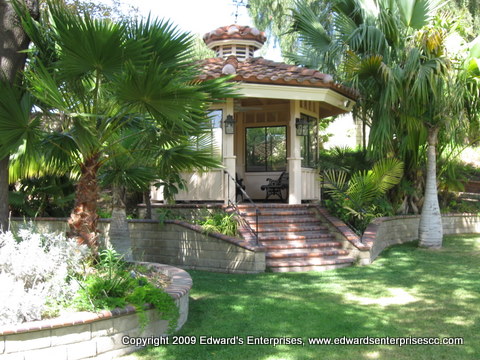 Westlake Village is a great place to live because…
the High School graduation rate is 95% (24% higher than the rest of California)
the Median Household Income is $ 116,213 (80% higher than the rest of California)
the crime rate is 46% lower than other California towns
the Median Housing Value is $ 825,700 (84% higher than other California cities)
Overall, Westlake Village offers its residents a stable housing market, plenty of local amenities, a high income per capita, and low crime rates.

For more information about Westlake Village, visit AreaVibes.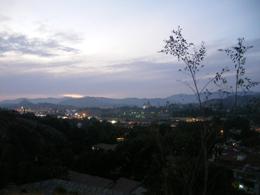 Reviews of Edward's Enterprises from recent customer surveys
"Edward's Enterprises has done several jobs for us both small and large and all have been done with a level of expertise and professionalism that any one can appreciate. Edward personally goes that extra step to make sure everything is done correct the first time.!"
Eric S.; Residential Customer