Edward's Enterprises Plumbing in Newbury Park offers both gas & electric water heater installations & repairs including:
Gas water heater tank installs

Electric water heater repairs

Point of use water heaters replaced

Hooking up electric water heaters

Insta-hot breakers swapped out

Leaking supply lines replaced

Earthquake straps installed

Drip pans replaced

Temperature & pressure valves plumbed

Drain lines plumbed outside

Water heater platforms installed

Water heater sheds assembled & attached

Gas safety valves replaced

Gas coated flex lines installed

Mobile home water heater repairs

Water heaters relocated

Chronomite water heaters swapped out

Water heater ducting fixed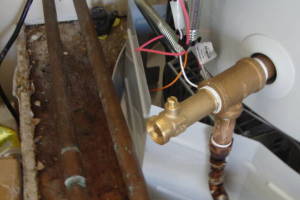 Need to find out if we can help with your 50 gallon or less water heater replacement? Call our office to discuss your new point of use instant hot water heater installation plans!

Please note we currently do not install water heaters over 50 gallons.
Newbury Park Community Center

Dos Vientos Community Park
4801 Borchard Road
Newbury Park, CA 91320
(805) 375-1003

For more information, check out Newbury Park Community Center Online.
Local Newbury Park Farmers Market

Thousand Oaks Farmers Market
350 West Hillcrest Drive
Thousand Oaks, CA 91360
(805) 529-6266

For more information, check out Newbury Park Farmers Market Online.
Q: A common question asked is: how much hot water will a water heater produce per hour?

A: The answer is that your water heater tank's per hour water production depends on your groundwater temperature & the temperature degree rise that you require. A good rule of thumb is that the standard gas water heater will produce approximately 35-45 gallons per hour of hot water for your home or office plumbing system. Electric water heaters will provide approximately 18-25 gallons per hour if they give off 4500 watts & can give 25-35 gallons per hour if they contain 5500 watts.


Q: Another question that is often asked is: how long will the hot water take to travel to the faucet?

A: & this answer depends on how far away the water heater is from the faucet. If the faucet is plumbed about 30 feet away, then the hot water will take about 30 seconds to arrive to the faucet. This can become frustrating & waste water, so some home owners will have a built in re-circulation system which will give you hot water instantly.