Regarding cleaning off your pool deck, Edward's Enterprises can help our Oxnard customers with:
Cold pressure washing home sidewalks

Cleaning driveway stains

Rinsing down outdoor furniture

Spraying off stubborn concrete algae

Cleaning home decks & patios

Steps & stairs pressure washed

Block walls & masonry cleaned

Garage floors cold rinsed down

Prep fencing for paint

Spray down walkways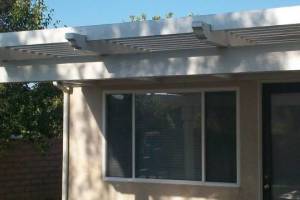 Our service is ideal for small areas in your front or backyard like a patio cover to prepare it for painting or a side yard that has been recently cleaned out & needs a quick pass with over 3000 PSI.

Residential cold water pressure washing of sidewalks, patios, or fences can give a property a fresh clean appearance. It is a terrific solution to increase property value or as a yearly clean-up.

Why rent when you can have one of our employees bring the machine right to you? & you save time with one of our pressure wash service calls, rather than spending your own time on scrubbing the areas yourself. Stubborn spots can get extra attention, & we can manually agitate with concrete cleaning product prior to cleaning to help loosen grease & grime.

We want to talk with you about your residential pressure washing ideas. Try us by phone to go over the details of your patio cover spray cleaning plans!
Oxnard Community Center

Oxnard Community Center
800 Hobson Way
Oxnard, CA 93030
(805) 385-8149

For more information, check out Oxnard Community Center Online.
Local Oxnard Farmers Market

Downtown Oxnard Farmers Market
471 S. B Street
Oxnard, CA 93030
(805) 247-0197

For more information, check out Oxnard Farmers Market Online.
Close all windows & doors firmly to prevent water from seeping in because leakage of water into the building could cause internal water damage.

Remove all vehicles from the surrounding area of where the pressure washing will be taking place.
Keene's
301 West Pleasant Valley Road
Oxnard, CA 93033
Local Oxnard Paint Recycling

Dunn-Edwards
685 E. Ventura Blvd
Oxnard, CA 93036
(805) 981-2990

For more information, check out Oxnard Paint Recycling Online.