Edward's Enterprises Plumbing in Camarillo offers shower surround, pan & door installations & repairs including:
Plastic/acrylic shower pans installed

Pre-fabricated shower surround wall installs

Shower faucet installations

Shower caulking repaired

Shower ventilation fans installed

Shower tile & grout repairs

Bathtub to shower conversions

Shower faucet cartridges replaced

Pivot shower doors installed

Glass sliding shower doors replaced

Shower drain clog clearing

Shower pan & wall tile projects

Shower demolition & hauling

Shower head installed

Shower grab bars installed

Shower lighting installation

Shower drain flanges replaced

Complete bathroom remodels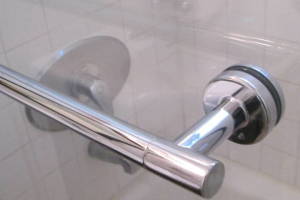 Maybe your corner shower door just needs an adjustment or new caulking to reach it's full potential! Is your bathroom shower installed properly to give you the bathing experience you deserve?

Need to find out if we can help with your shower door replacement? Call our office to discuss your new shower installation plans!
Camarillo Community Center

PV Recreation & Park District
1605 E. Burnley Street
Camarillo, CA 93010
(805) 482-1996

For more information, check out Camarillo Community Center Online.
Local Camarillo Farmers Market

Camarillo Farmers Market
2220 Ventura Blvd
Camarillo, CA 93010
(805) 386-3584

For more information, check out Camarillo Farmers Market Online.
First, leave your shower door open after your showers to allow air to circulate & dry the walls. Using a fan during & after your showers will help to dry out the bathroom. Lastly, if your bathroom has windows, a little bit of sunlight helps to discourage mildew.

One way to help keep your shower clean, is to keep a squeegee in your shower. After you have showered, simply squeegee your shower walls & glass shower door. This will help keep your shower pleasant & cut down on having to scrub when it's time to formally clean your shower.

One precaution is to never use steel wool pads in your shower, or even harsh plastic scrubbing pads or brushes on a plastic tub. These can leave scratches, which would gather water, dirt & mold.

Another warning is to avoid mixing household chemicals, especially bleach & ammonia. If you need to use multiple products to clean, then rinse very thoroughly & allow plenty of time in between each use.

A fun fact is that dryer sheets work very well for cleaning soap scum off of shower glass. To prevent streaks, the trick is to use a squeegee. Another quick tip is to use Mr. Clean magic eraser because the eraser works awesomely when it comes to cleaning scum off of the actual shower.