Complete Irrigation System Maintenance Services

System-wide repairs (piping, heads, wiring)
Installation of brand new sprinkler systems
Repairs to under and over ground drip tubing
Drip emitter line installation or replacement
Adjustments to pop-up heads & water backflow control
Punch-in addition of 1/4 drip lines
Relocation of sprinkler heads for optimal water efficiency
Irrigation design to fit the needs of your lawn
PVC pipe replacement or repairs
Timer adjustments, installed, or fine-tuned
Manual control valves replaced or repaired
Backflow preventer repairs
Fertilizer injector installed
Timer clock synchronization across lawn spaces
ring us at
805-987-2441

to schedule a landscape drip or sprinkler repair service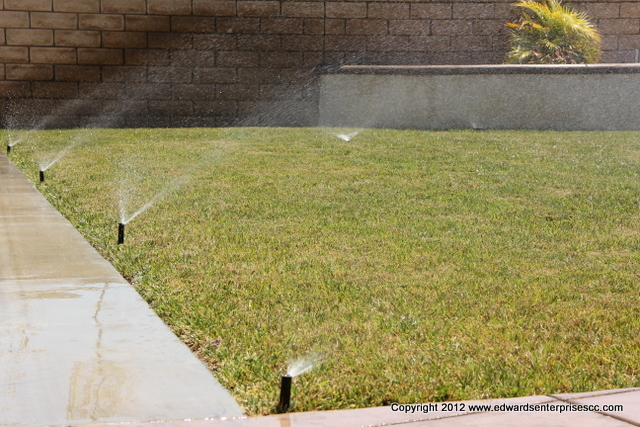 we can handle many types of sprinkler projects for your home
Sprinklers water (and nourish) the plants & landscaping that beautify our homes.

Edward's Enterprises irrigation sprinkler repairs has been servicing the everyday yard care & repair needs of our customers' homes & businesses since 1996. Our many years in the home & commercial repair & improvement trade give us the perspective & know-how critical to carrying out projects of any size; from a simple sprinkler timer replacement to installing a brand new sprinkler head system.

The right watering system can go a long way towards ensuring your green thumb efforts. Sprinklers are a practical, attractive addition to landscapes across the country. Arranged well, they bring life to many lawns. Their systems provide essential water & timers with the convenience of not having to manually spray water ourselves. When adding or renovating a sprinkler system, pay attention to your landscaping. This includes your plants & flowers--it would be a waste to spray more water on flowers than on high water-need shrubs! Don't skimp on preparation & you'll enjoy your sprinkler system for years to come!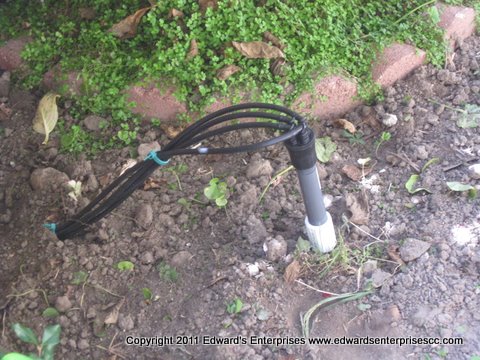 Discover the ways we can help with your next Landscape Sprinklers & Drip Systems Repaired & Replaced project!

Edward's Enterprises
General Contractor License B 857752, Insured
Typical hourly rates we charge
Starting at $89 for the 1st hour for each trip for one employee*

$59 each hour after for one employee*
These are the typical cash or check hourly rates for labor we charge our customers for repairs to or installations of sprinkler systems & drip lines (not including materials). Our repairs & installations are charged on a time & material basis. That includes all of the time for your project, including sourcing materials if they are needed.
Some residential irrigation projects are too large or expansive for 1 employee to handle like trenching new lines or larger properties, so we would send 2 of our employees to your home at higher rates than listed above.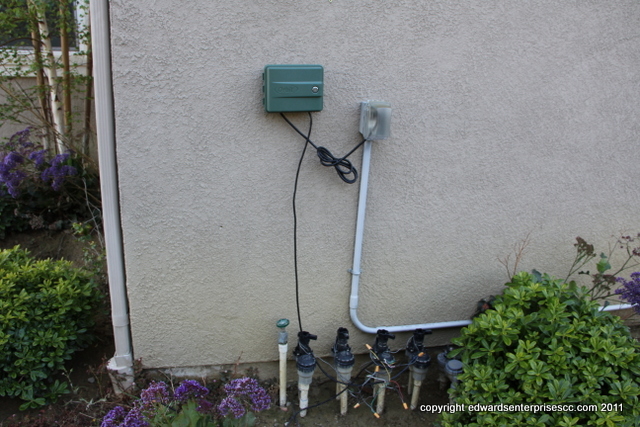 *The range for the first hour of work is from $89 to $119 depending on the work site zip code. Some exclusions do apply, like commercial companies that are billable, or for same-day, after hours or weekend service. Communities outside of our normal service area will be charged additional travel costs. We would be happy to answer any of your pricing questions, please call for details!
a few reasons to hire us for your automated lawn or flower bed watering needs
We have been locally owned SINCE 1996.

LICENSED (B 857752) GENERAL CONTRACTOR with the Contractor's State License Board since 2005.

INSURED: LIABILITY, WORKERS COMPENSATION, & AUTO to protect our customers & employees.

We have the TOOLS to complete most Landscape Sprinklers & Drip Systems Repaired & Replaced jobs.

Landscape Sprinklers & Drip Systems Repaired & Replaced appointments are completed by our EXPERIENCED, LONG TERM EMPLOYEES in the field & in the office.
Review from a recent customer survey:
"I loved how your team of guys took their time to make sure the sprinklers were all up & running again. Quality control by those guys was definitely top-notch!"
Michael S.; Port Hueneme, CA
Drop us a line or give us a call, it's easy


Is your sprinkler system leaking or spraying the wrong way? Whether to repair or install, Sprinkler Services is here to keep your property in top shape!


Appointments for our Landscape Sprinklers & Drip Systems Repaired & Replaced services now available.
If you have been considering a more water-efficient way to keep your lawn beautiful, today is a good day to have us install a watering drip system.
Receive our latest discounts & offers to your email by simply filling out our contact form!
Sprinkler Repair service calls can be scheduled for a variety of days & times
We are in the field daily Monday through Friday 7:00 am - 4:00 pm.


AFTER HOURS, EMERGENCY & WEEKEND rates are available to meet our customer's needs.


We are open Saturdays by appointment, call for details.


Landscaping Sprinkler & Drip System City Coverage List
Ventura County
Casa Conejo
Casitas Springs
El Rio
Faria Beach
La Conchita
Lake Sherwood
Leisure Village
Meiners Oaks
Mira Monte
Missions Oaks
Oak View
Piru
Santa Rosa Valley
Santa Susana
Saticoy
Somis
Los Angeles County
Arleta
Bel Air
Hidden Hills
** Select Zip Codes **
Marina Del Rey
Newhall
North Hills
Pacific Palisades
Panorama City
San Fernando Valley
Topanga
Venice Beach
Santa Barbara County
Coast Village
Goleta
Summerland
Didn't See Your City?
We may be able to service your community with an additional travel charge.
We offer our customers additional backyard services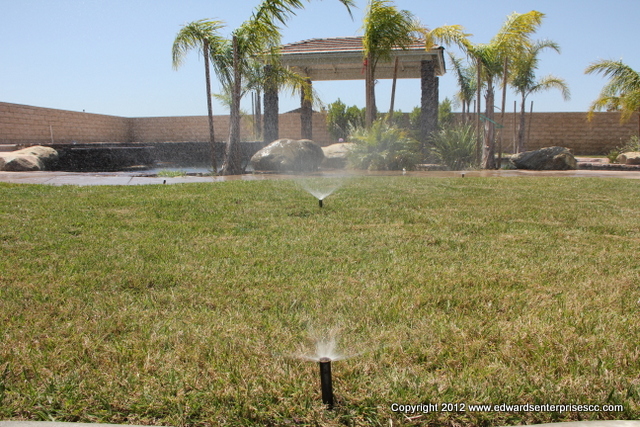 Did You Know?
* Keeping your drip system in proper working order may take some maintenance. It is important to periodically check your system for any leaks or ware in the drip tubing. Carefully inspect all drip emitters, sprayers & bubblers to check for any clogs. If you do find any clogs, make sure to clean out those areas if possible, or replace them if need be.

* Also make sure to check the filter screen each week for the first month for any build up of debris. To clean the screen, use a soft nylon brush & water. Next, check to see if any of the drip tubing is strained or has been moved, as well as, look for nicks & cuts. These sections can be replaced using couplings.

* A few times a year you should do a complete flush of your drip system. This will help flush out any excess minerals that have built up over the year.

* A commonly asked question is how much water will be saved using drip systems as compared to sprinkler? The answer is that you can expect to save up to 50% of the water used. Sprinklers tend to throw water & so there is a greater loss of water due to evaporation & overspray. Drip systems solve the problem by delivering water slowly & under control to precise areas at the roots. This makes it so runoff, erosion, overspray & evaporation do not occur.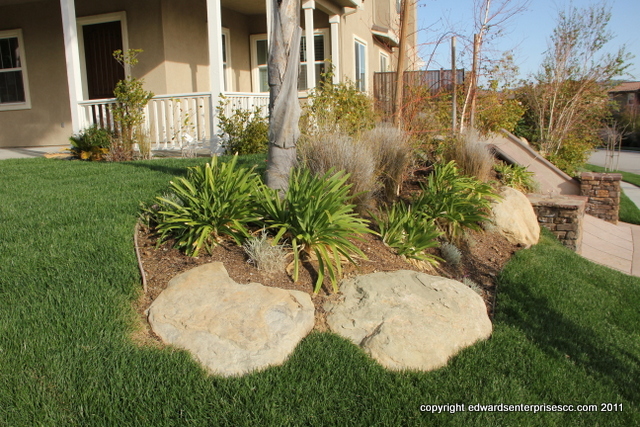 Useful info on sprinkler systems
Many people would like to know what are the components to an automatic sprinkler system. A typical system includes a controller, valves & sprinklers. The controller is basically the brains of the operation. The valves open & close to release & stop the flow of water from the underground pipes. The sprinklers distribute water to specific areas. These are simply the basics because the system can also include rain shut off devices, soil moisture sensors & drip irrigation zones.

A question that is often asked is will an automatic sprinkler system water as evenly & use more water than if done by hand? The answer is yes & no. Yes, the sprinkler system will water as evenly & No the system will not use more water. Sprinkler systems are designed based on your landscapes diverse watering needs & are custom to your particular situation. This means that they are set up to water every part of your lawn evenly. These systems will save water at the same time because they only water where it is needed & are designed to apply water exactly where it needs to go.