Home Hauling & Clean Outs
Garage Clean Outs
Tear Outs
Haul Bulky Items
Garage Organizing
Rental Home Clean Outs
Hauling Away Sheds
Side Yard Clean Ups
Interior Demolition
Construction Clean Outs
Small Demolition
Trash Removal
Backyard Junk Removal
Move-Out Help
Move-In Help
Residential Hauling
ring us at
805-987-2441

to setup a junk removal visit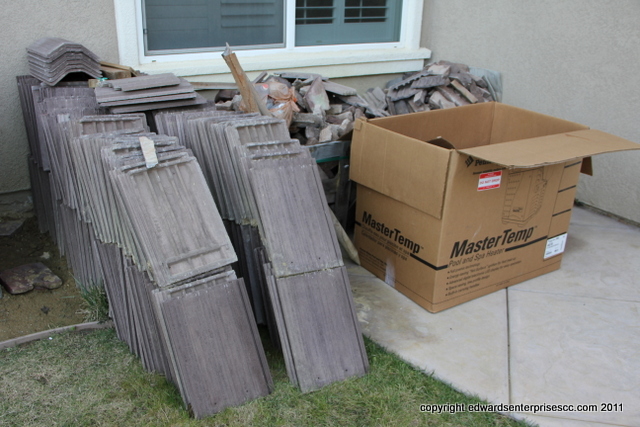 We can handle many cleanout projects for your home
Hiring Edward's Enterprises to help with your hauling away unwanted items has worked for many of our residential customers.
From hundreds of square feet of carpet to light one-visit backyard green waste haul-aways, Edward's Enterprises leaves our customer's homes with clean open spaces. The potential for the space in that junk-filled backyard or the garage stacked with unused furniture is unrealized. Our junk & haul-away services extend to demolition of interior walls, old cabinets, long-dead jacuzzis, decks, patio covers & more. Many customers dream of a cleaner yard but hate to imagine dealing with all of the garbage, debris, & junk that has accumulated over the years in their side yard from DIY projects.
Planning to upgrade your kitchen? We cannot only help you install your new appliances, but we can move & haul away your old refrigerator, oven, dining table, cabinets, you name it--we can tear it out & haul it away. We are here to clear out yard trimmings, dirty foreclosed units, over-capacity garden sheds, & much more!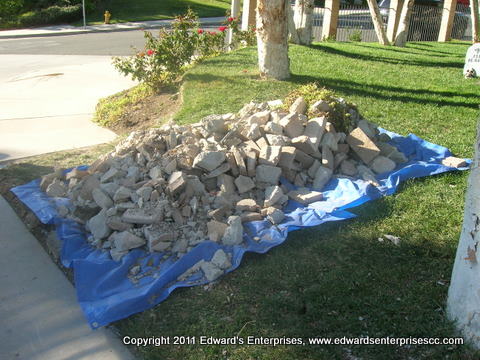 Discover the ways we can help with your next junk removal project!

Edward's Enterprises
General Contractor License B 857752, Insured
The Typical Hauling hourly rates we charge
Starts at $149 for the first hour (each trip, 2 employees)*

$99 an hour after that (2 employees)*
These are the typical cash or check hourly rates for labor we charge our customers for residential hauling projects (not including materials or dump fees). Our residential junk removal & hauling services are charged on a time & material/dump fee basis. That includes all of the time for your project, including sourcing materials if they are needed, & the fee for the volume & weight of junk or debris being hauled away.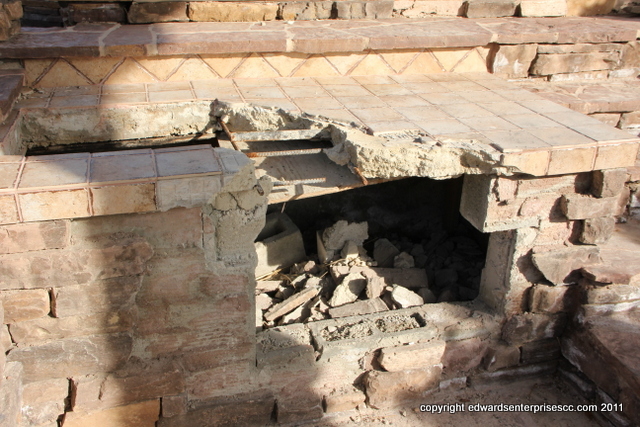 *The first hour of work charge is from $149 to $199 depending on the work site zip code. Some exclusions do apply, like commercial companies that are billable, or for same-day, after hours or weekend service. Cities outside of our typical coverage map will be charged additional travel costs. We would be happy to answer any of your pricing questions, please call for details!
a few reasons to call us for rental home clean out
Edward's Enterprises has been providing junk removal & home hauling services to our customers since 1996.

Licensed & Bonded since 2005 with the Contractor's State License Board (B 857752).

Fully Insured to protect our valued customers & employees.

We have the tools & skills to complete most home hourly clean outs.

Hauling & junk disposal service calls are completed by our experienced staff in the field & in the office.
Review from a recent customer survey:
"Edward & his team came in & removed my old kitchen appliances in a jiffy. When they noticed leftover garbage from my construction project, they were able to truck that away too. It was one less issue for me to worry about."
Alex O.; Haul-away customer
It is easy to contact us when you want a clean start


If junk has been accumulating & you need a garage clean-out or have leftover trash & debris from a home improvement project, Call us first for your hauling needs!


Appointments for our Home Clean Out services are available.
Receive our latest discounts & offers to your email by simply filling out our contact form!
Hauling Appointments can be scheduled for a variety of days & times
We are typically open Monday through Friday 7:00 am - 4:00 pm.


AFTER HOURS, EMERGENCY & WEEKEND rates are available to meet our hauling customer's needs.


We are open Saturdays by appointment, call for details.


The Cities & Towns Our Junk Removal Services Cover
Ventura County
Casa Conejo
Casitas Springs
El Rio
Faria Beach
La Conchita
Lake Sherwood
Leisure Village
Meiners Oaks
Mira Monte
Missions Oaks
Oak View
Piru
Santa Rosa Valley
Santa Susana
Saticoy
Somis
Los Angeles County
Arleta
Bel Air
Hidden Hills
** Select Zip Codes **
Marina Del Rey
Newhall
North Hills
Pacific Palisades
Panorama City
San Fernando Valley
Topanga
Venice Beach
Santa Barbara County
Coast Village
Goleta
Summerland
Didn't Locate Your City Listed In Our Coverage Areas Above?
We may be able to handle your junk removal service call with an additional travel charge, call our office for details.
We offer our customers additional junk clean-out services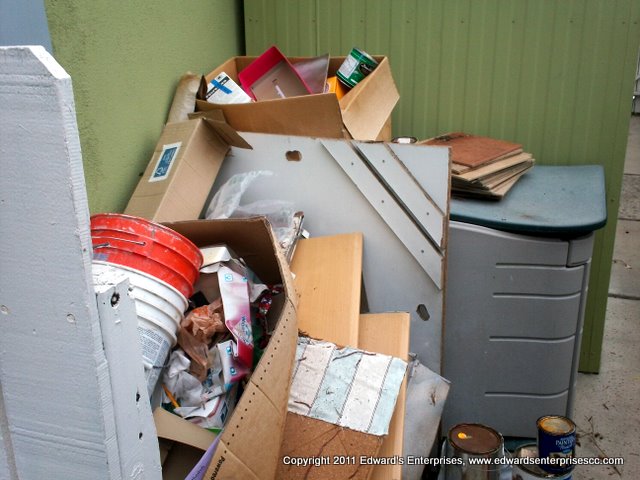 What are a home owner's options for recycling paint?
The state of California is now a participant in the multi-state "paintcare.org" program to create a paint recycling in the state. Have you bought new paint recently? Retailers are now responsible for collecting additional taxes/fees for paint purchased, approximately 75 cents a gallon. PaintCare states they "accept house paint & primers, stains, sealers, & clear coatings (e.g., shellac & varnish) but we do not accept aerosols (spray cans), solvents, & products intended for industrial or non-architectural use. The products we accept are referred to as "PaintCare Products" or "architectural paint" & they must be in containers that are no larger than 5 gallons in size. Paint must be in its original container & the container must have a label & a secured lid. We cannot accept open or leaking cans." If you are looking for a more detailed list of what they accept, check out their PaintCare Products vs. Non-PaintCare Products page.
Once retailers charge consumers & paint contractors at the time of purchase, the state collects up all of this money, & then consumers & contractors are (in theory) supposed to have easy options for recycling unused paint. This isn't always the case as we have learned, as some recycling centers will turn you away if they have already accepted all the paint they can hold at a given time. If you are looking for a local drop off center, visit paintcare.org drop off location finder to find a local site. But take it from us, call first as they sometimes will not accept drop offs after you get all the way there :(.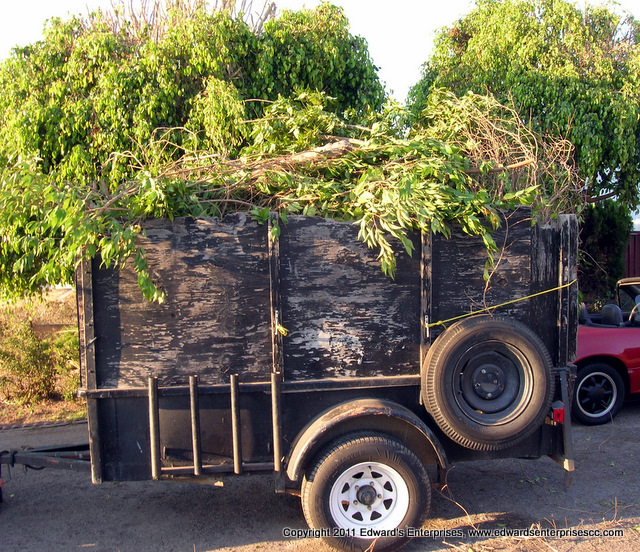 Great Residential Hauling & Junk Removal tips
Cleaning out your office can feel like such a relief; however, some materials are unable to be hauled away to the nearest dump. If you are unsure of what may & may not be hauled away here are some tips & tricks to help you. Aerosol cans containing hazardous products can not be recycled, but empty aerosol cans can be recycled in your curbside recycling barrel. Asbestos, batteries, pharmaceuticals, electronic waste, compact fluorescent light bulbs, motor oil, propane/helium tanks, syringes, needles, & vehicle tires cannot be hauled away to the dump. However, there are places to take all of these substances (though in some situations, like tires, there is a fee for disposal/recycling).
Most city's HHW programs will take aerosol cans, batteries, TV's, monitors, electronic waste, compact fluorescent light bulbs, syringes, & needles. There are other places that take these materials as well:

Asbestos can be taken away by the State Department of Toxic Substances Control.

Asphalt & concrete can be taken away by Cemex, Vulcan & the Simi Valley Landfill Recycling center.

TV's & monitors can be given to your local HHW location, like Gold Coast Recycling in Ventura.

Motor Oil & filters can be disposed of at businesses like Firestone, Jiffy Lube, O'Reilly Auto Parts, & Good Year.

Toner & Ink Cartridges can be recycled at your local Staples or Office Depot.

Vehicle Tires can be disposed of at America's Tire Company.

We know that properly recycling of household items can be an inconvenience, but it is worth it to divert hazardous waste from our natural world like the streams, oceans, & lakes in Southern California for future enjoyment & the health of our local ecosystems. Let's all do our part.