Sub-Floors Repaired and Installed
We can repair, replace, or install sub flooring
Water-damaged sub-floors repaired
Sagging insulation replaced
Damage repairs when under home moisture barrier fails
Mobile home sub-flooring units also serviced
Joist repairs and installing blocking and insulation
call
805-987-2441

to schedule service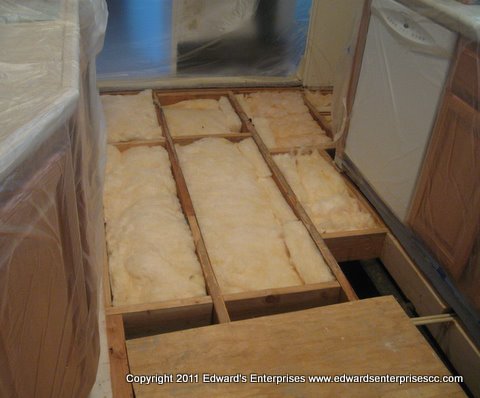 we can handle many types of sub flooring construction and repairs
Get to know Edward's Enterprises Carpentry Service, where we work with homeowners to invest in their homes and businesses by completing their next interior and exterior carpentry improvements. Our 19 years in the home & commercial repair and improvement trade gives us the perspective and know-how critical to carrying out projects of any size.

There are many ways to bring value to your property and protect your family and assets. Upkeep and repairs of your Sub Floor and Under Home Insulation and Moisture Barrier are one of the most cost effective ways but are often overlooked until they become big expensive issues.


How can we help you with your next Sub Floor Repair, Removal and Installations project?

-Edward Flanagan, Owner
General Contractor License B 857752, Insured
Standard rates we charge for onsite sub-floor repairs
From $149 for the first hour (each trip, 2 employees)*

$99 an hour after that (2 employees)*
These are the typical cash or check hourly rates for labor we charge our customers for sub floor replacements and repairs (not including materials). Our repairs and installations are charged on a time and material basis. That includes all of the time for your project, including sourcing materials if they are needed.
Sub flooring carpentry projects are typically too involved for 1 employee to handle, so we would send 2 of our employees to your home for the above rates.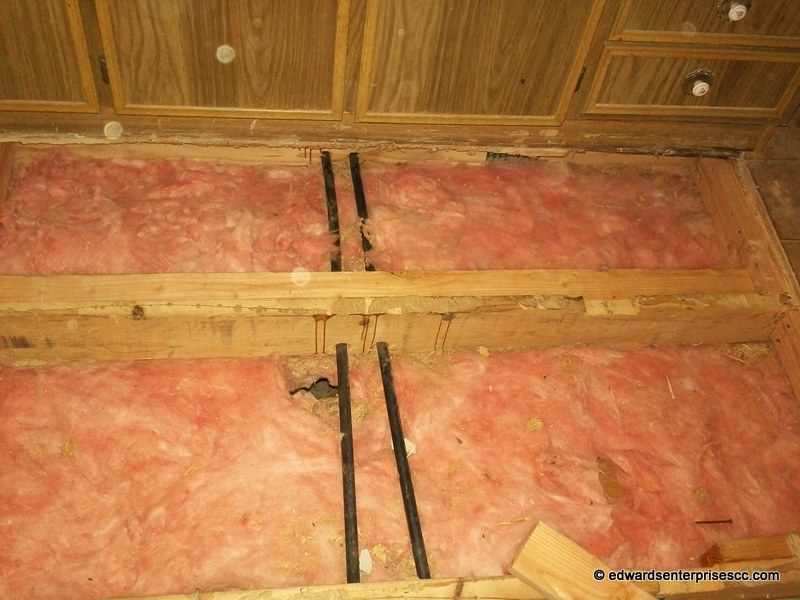 *The first hour of work charge is from $149 to $199 depending on the work site zip code. Exclusions may apply, like for same-day, after hours or weekend service, or for commercial companies that are billable. Cities outside of our typical coverage map may have additional travel charges. Please contact us with any of your pricing questions, we would be happy to discuss our billing policies with you.
reasons to call us for home sub flooring repairs
Edward's Enterprises has been providing Sub Floor Repair, Removal and Installations to our customers nearly 20 years.

Licensed and Bonded since 2005 with the Contractor's State License Board (B 857752).

Insured to protect our valued customers and employees.

We have the tools and skills to complete most Sub Floor Repair, Removal and Installations.

hourly repairs are completed by our staff in the field and in the office.
Review from a recent customer survey:
"Edward's Enterprises is professional, courteous and very good at what they do...We highly recommend Edward's Enterprises to anyone who wants quality, honest, and professional services!"
Mark and Patty S.; Van Nuys, CA
Contact Edward's Enterprises when you need a sub floor installed or repaired


Sub Floor damaged? Sub Floor Sagging Between Joists? Holes in your Sub Floor? Call us now for prompt and attentive service.


Appointments for our Sub Floor Repair, Removal and Installations services now available.
Receive our latest discounts and offers to your email by simply filling out our contact form!
Sub Floor Repair, Removal and Installations Projects can be scheduled for a variety of days and times
We are typically open Monday through Friday 7:00 am - 4:00 pm.


AFTER HOURS, EMERGENCY AND WEEKEND rates are available to meet our customer's needs.


We are open Saturdays by appointment, call for details.


Wood Sub Floor Repair City Coverage List
Ventura County
Casa Conejo
Casitas Springs
El Rio
Faria Beach
La Conchita
Lake Sherwood
Leisure Village
Meiners Oaks
Mira Monte
Missions Oaks
Oak View
Piru
Santa Rosa Valley
Santa Susana
Saticoy
Somis
Los Angeles County
Arleta
Bel Air
Hidden Hills
** Select Zip Codes **
Marina Del Rey
Newhall
Pacific Palisades
San Fernando Valley
Topanga
Venice
Santa Barbara County
Coast Village
Goleta
Summerland
Is your city missing from our list?
We may be able to service your community with an additional travel charge.
Did You Know This?
* Subflooring in mobile homes is usually made of a weak wafer type material composed of wood, sawdust, and a gluey material. If water leaks in to this material, it will begin to crumble.
* The orchestra of squeaks that you hear walking around a house results from after a house has settled, and the flooring material has dried out or shrunk. This causes the subfloor to loosen and move and squeak.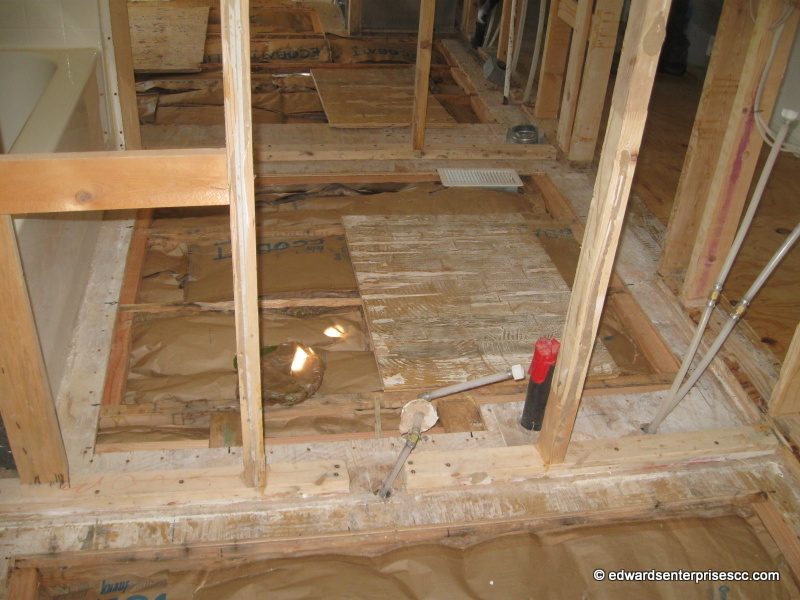 Great Tips on Sub Flooring
Subflooring is part of the substructure. It is underneath the flooring in your home. The subfloor is usually constructed from 1 by 4 or 1 by 6 lumber or plywood panels. When using lumber, the panels are laid diagonally across joists and when using plywood the boards are laid in a staggered fashion, with the ends and edges butted together and the panels nailed to the joists. The four types of subfloor are plywood (which was mentioned before), plank sub flooring, oriented strand board sub flooring and concrete slabs. Each one of the prior subfloors would be used depending on what type of floor you would like to install. The common floors include 3/4 thick solid wood flooring, engineered wood flooring, floating wood floors and laminate flooring.

Some of the common problems with sub flooring include the floor sinking, creaking, popping and an uneven floor. A sinking floor means that the floor is not as strong as it used to be and may feel soft or spongy. Water or moisture can also cause the floor to sag. Creaking or pooping is common in older homes. This means that the subflooring is not secured to the underlying joists. At this point you should either replace it with thicker panels or install wider joists. An uneven floor may be the effect of the foundation or support walls settling. Another reason for uneven floors is water damage. All of these may lead to the subflooring needing repair or replacement.