Patio Cover & Gazebo Repairs, Fabrications, & Installations
Patio covers installed
Patio covers repaired
Patio cover removal
Patio cover modification
Patio awnings installed
Aluminum patio covers repaired
Replacement of patio cover posts, fascia, & beams
Pressure washing cleaning & painting of patio covers & gazebos
Assembling Gazebos, Pergolas & Arbors purchased from big-box retail stores like Costco, Amazon, Lowes & Home Depot
Existing arbors repaired, painted, cleaned, or resurfaced
Slats & posts replaced
Electrical repairs, including adding lighting fixtures to patio covers
We can dismantle, relocate, or haul away old gazebos, patio covers & pergolas
Gazebo renovations, remodels, construction, & removal
Screens (aluminum or wood) & roof panels replaced
Painting services also available
contact us at
805-987-2441

to discuss your painted patio cover or pergola project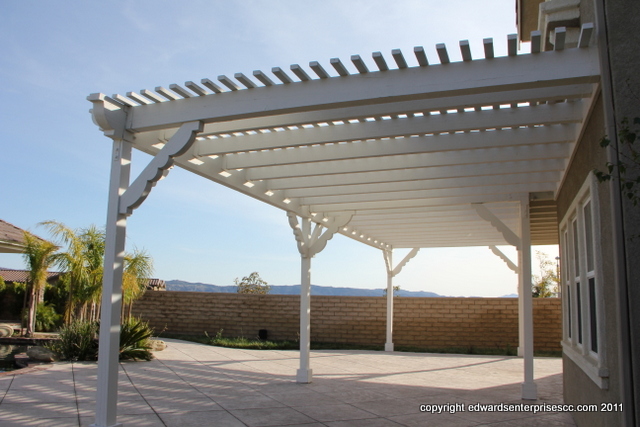 handling a variety of backyard patio & gazebo projects
Meet Edward's Enterprises Patio Cover Repairs, where we work with homeowners by completing their next patio cover repair, gazebo replacement, or pergola assembly project.
Our almost 20 years in the home & commercial repair & improvement trade gives us the perspective & know-how critical to carrying out projects of any size; from a small shade cloth installation to a full-sized wooden pergola construction.

For the front or back yard, a patio provides an excellent point of relaxation (or work, if one prefers!). They allow us to enjoy the weather without being exposed to the full brunt of natural elements. An off the shelf awning or gazebo can be perfect for social gatherings; whether for the kids, family, or friends. A patio cover is also a great home investment whether now or for resale.

If your once lovely gazebo has succumbed to weather, age, or general wear & tear, we can help you bring it back to life.
Not only do we build patio covers from scratch, we also can help you revive your existing shade structure with paint, structure renovation, or even a simple pressure wash!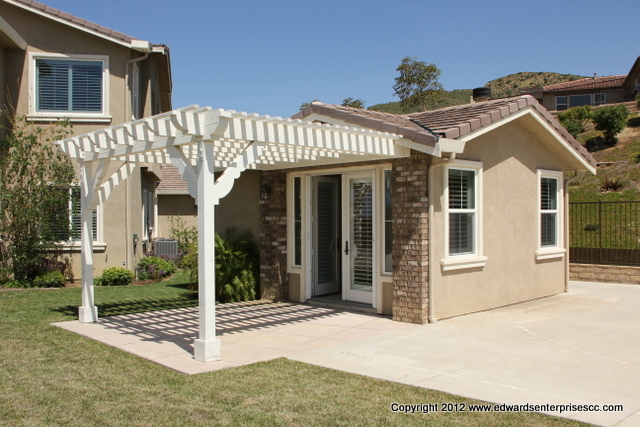 Find out how we can help with your next Patio Cover or Shade Replacement project!

Edward's Enterprises
General Contractor License B 857752, Insured
Standard rates we charge for Painted Patio Repairs
Starts at $149 for the first hour (each trip, 2 employees)*

$99 an hour after that (2 employees)*
These are the typical cash or check hourly rates for labor we charge our customers for backyard patio replacements & repairs (not including materials). Our repairs & installations are charged on a time & material basis. That includes all of the time for your project, including sourcing materials if they are needed.
Patio cover projects are often too large or high for 1 employee to handle, so we would send 2 of our employees to your home for the above rates.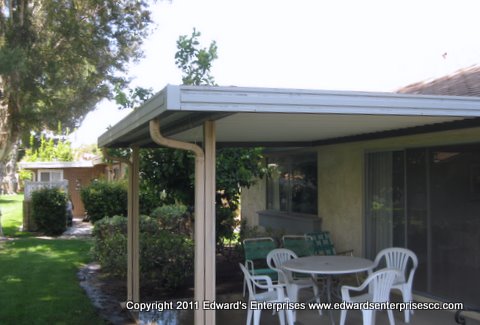 *The first hour of work charge is from $149 to $199 depending on the work site zip code. Exclusions may apply, like for same-day, after hours or weekend patio painting & repair service, or for commercial companies that are billable. Cities outside of our typical coverage map may have additional travel charges. Please contact us with any of your patio cover pricing questions, we would be happy to discuss our billing policies with you.
several reasons to contact us for your next patio repair
Edward's Enterprises has been providing Patio Cover repairs to our customers nearly 20 years.

Licensed & Bonded since 2005 with the Contractor's State License Board (B 857752).

Insured to protect our valued customers & employees.

We have the tools & skills to complete most home, office & shopping center hourly service calls.

Gazebo assemblies & Patio Cover repairs are completed by our staff in the field & in the office.
Review from a recent customer survey:
"My husband & I were thrilled with the price & the extra time the guys took to clean the area after all of the construction. He couldn't believe how good things looked when he returned home. Both guys were very friendly & courteous as well!"
Annie D.; Oxnard, CA


Is your patio leaning, falling, sagging, chipping, peeling? Maybe you're thinking about getting one? Have Edward's Enterprises Patio Cover Services restore your patio cover to it's former greatness!


Appointments for our Gazebo, Pergola & Patio services now available.
Receive our latest discounts & offers to your email by simply filling out our contact form!
Patio Cover Repair Appointments can be scheduled for a variety of days & times
We are in the field daily Monday through Friday 7:00 am - 4:00 pm based on need.


AFTER HOURS, Weekend & Emergency rates are available to assist our gazebo installation customer's scheduling needs.


We are open Saturdays by appointment, call for details.


Patio Covers & Gazebos Installed & Repaired City List
Ventura County
Casa Conejo
Casitas Springs
El Rio
Faria Beach
La Conchita
Lake Sherwood
Leisure Village
Meiners Oaks
Mira Monte
Missions Oaks
Oak View
Piru
Santa Rosa Valley
Santa Susana
Saticoy
Somis
Los Angeles County
Arleta
Bel Air
Hidden Hills
** Select Zip Codes **
Marina Del Rey
Newhall
North Hills
Pacific Palisades
Panorama City
San Fernando Valley
Topanga
Venice Beach
Santa Barbara County
Coast Village
Goleta
Summerland
Is your community missing from our list?
We may be able to come repair your gazebo or patio cover with an additional travel charge. Call for Details
We offer our customers additional carpentry services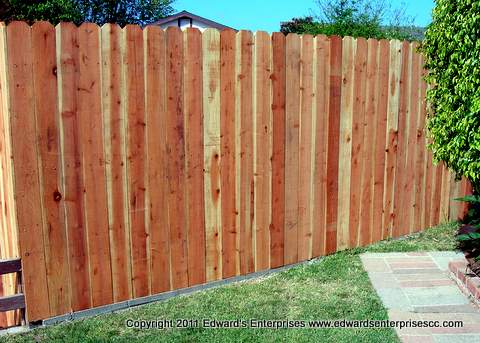 Some of the benefits of shade patio covers?
Patio covers benefits include trapping cool air underneath that can breeze into home & reduce AC bills on a hot summer.

Shade patio covers attached to a customer's home can provide protection to the contents of a home, including curtains or blinds, carpet, or furniture from the sun's rays.

A detached structure, like a pergola or gazebo, can create an entertainment area, or a spot for relaxing on a weekend evening with lighting for a private dinner.

Patio covers, when maintained & balanced with a landscaped property, can increase the resale value of a home or townhouse.

Pets can seek shelter under patio covers in the summers or on a rainy day.

Patio covers, awnings & shade cloths can protect outdoor furniture from the elements.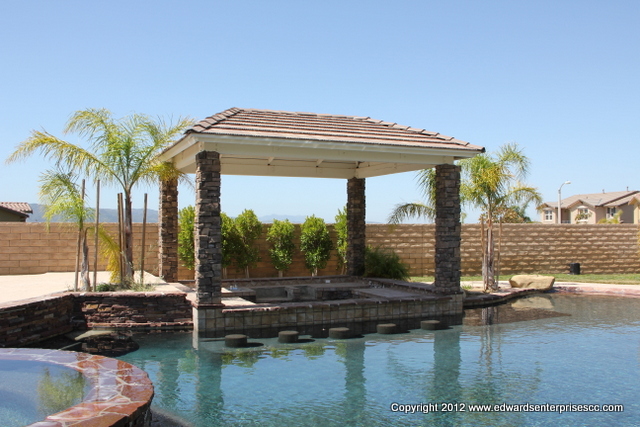 Great Tips for Patio Upkeep
Cleaning & maintaining a stained & sealed (rather than a painted) patio cover or gazebo is very important so that the structure holds up well over the years & lasts a long time. There are different ways & methods to clean or preserve a shade structure; some of these depend on the type of material used to create the patio. These include wood, concrete, tile, stone, brick & many more.

One option to lighten & clean old timbers of a patio cover or shade cover is to use Hydrogen Peroxide, which will lighten old timbers & evaporates away leaving no residue.

If a mechanical option is preferred, a jet washer can be used to clean patios but it should not be a heavy duty one & preferably one that is less than 1500 psi with a wide fan jet.

After you have cleaned your patio & brightened it up as wanted, then it is time for the sealing. Use a waterproof patio sealer because it will repel water & make the patio last longer. To apply the sealer, use a pad with a little reservoir & brush the sealer on. Make sure to evenly coat it all over the patio surface & then let it dry. After about an hour or so of drying time, buff the surface to remove wet excess.