Repairing existing laminate wood floors
Adding baseboard trim
Replacing floor planks
Installing brand new laminate wood flooring
We can install padding underlayment and quarter round trim
Carpet removal and hauling for new laminate installation
Laminate flooring transitions installed
To tile, carpet, vinyl, and wood floor
Worn-out flooring removed and hauling
ring us at 818-639-2441 to schedule a service call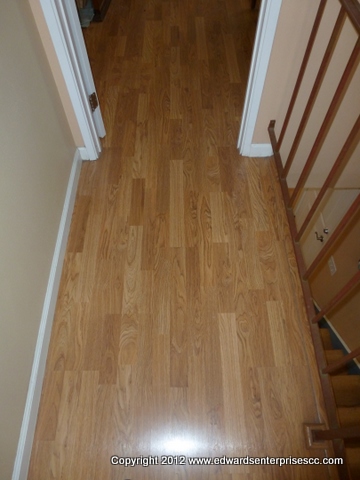 Our Remodel and Repair Services are available throughout Los Angeles (West) 90024, 90025, 90034, 90049, 90064, 90066 and 90077
we can handle many types of wood-laminate rough & finish projects in Los Angeles (West)
Get to know Edward's Enterprises Los Angeles (West) Flooring Service, where we work with homeowners to invest in their homes by completing their next
interior and exterior carpentry improvements
.
Laminate Flooring can give you the look and feel of wood at a fraction of the cost, and laminate wood flooring doesn't need to be refinished like natural wood flooring does. Consider laminate flooring in areas of your home with high traffic, like hallways and common areas. While laminate will not hold up as well in wet areas, like bathrooms, it also can be a very attractive option for bedrooms.
Have a small area of laminate that is damaged? If the selection is still available, or if you kept enough stock from the original install, we can often
patch in a new piece
to save the cost of replacing the entire floor. Our 19 years in the home & commercial repair and improvement trade gives us the perspective and know-how critical to carrying out projects of any size.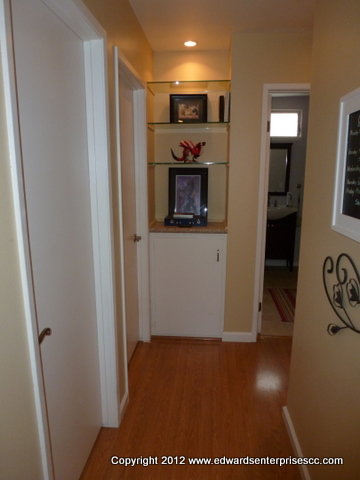 Discover the ways we can help with your next Laminate Floor Repair and Replacements project!

Edward's Enterprises
General Contractor License B 857752, Insured
a few reasons to call us for laminate flooring replacing and repairing in Los Angeles (West)
Since 1996, Edward's Enterprises has been providing Laminate Floor Repair and Replacements to satisfied customers.
LICENSED (B 857752) GENERAL CONTRACTOR with the Contractor's State License Board since 2005.
INSURED: LIABILITY, WORKERS COMPENSATION, AND AUTO to protect our customers and employees.
We have the TOOLS to complete most Laminate Floor Repair and Replacements.
Laminate Floor Repair and Replacements
are completed by our EXPERIENCED, LONG TERM EMPLOYEES in the field and in the office.
Standard rates we charge for Los Angeles (West) onsite repairs and replacement services
$199.00* for the first hour (each trip, 2 employees)

$99.00* an hour after that (2 employees)
These are the typical cash or check hourly rates for labor we charge our Los Angeles (West) customers for wood laminate flooring replacements and repairs (not including materials). Our
repairs and installations
are charged on a time and material basis. That includes all of the time for your project, including sourcing materials if they are needed.
Most home flooring installations are too large or time consuming for 1 employee to easily handle, so we would send 2 of our employees to your home for the above rates.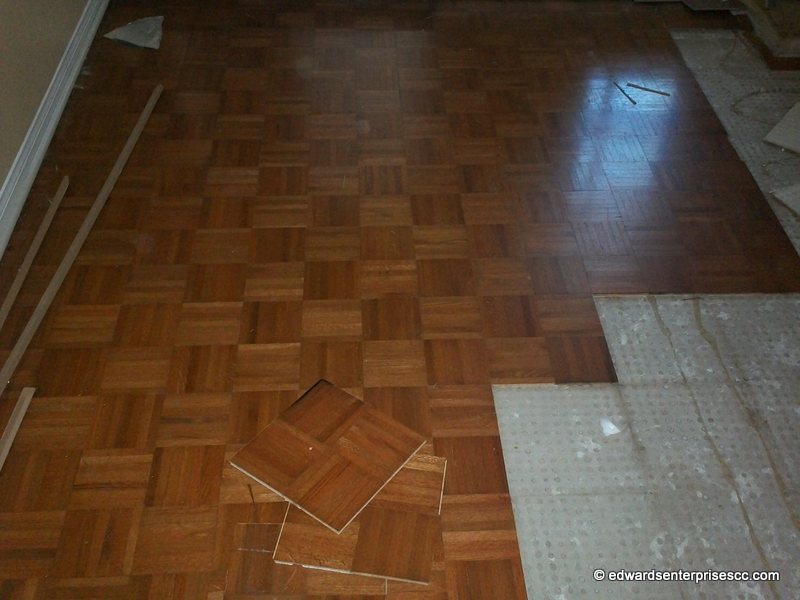 *Certain exclusions apply, like for same-day, after hours or weekend service, or for commercial companies that are billable. Communities outside of our normal service area will be charged additional travel costs. We are happy to answer all of your pricing questions, call for details!
Laminate Floor Repair and Replacements Projects can be scheduled for a variety of days and times
We are in the field daily Monday through Friday 7:00 am - 4:00 pm based on need.


AFTER HOURS, Weekend and Emergency rates are available to assist our Los Angeles (West) customer's scheduling needs.


We are open Saturdays by appointment, call for details.


Contact Edward's Enterprises when you need laminate flooring replaced
Did You Know This?
* Laminate flooring is made from a type of fiber core body with a photographic print layer and clear top coat of resin. It can be made to look virtually indistinguishable from many flooring surfaces such as hardwood, slate, tile, and stone.
* Laminate flooring can be installed to be floating, meaning there is no need for nails, glue, staples, or anything to secure it to the foundation.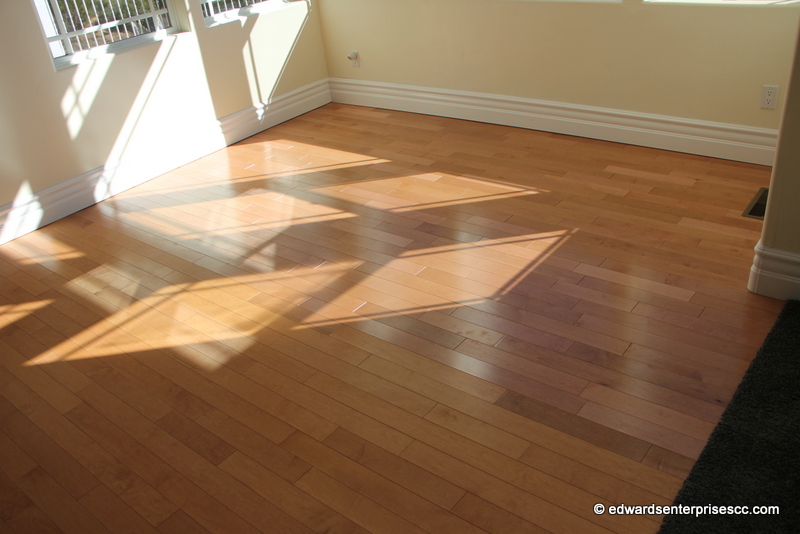 Great Tips for Laminate Flooring
Laminate flooring is a great choice because it allows for the look of hardwood yet it avoids the high level of maintenance. Even though the maintenance is lower than hardwood floors, laminate floors still do need to be cleaned regularly. A way to do this is by first sweeping the floor to remove loose dust and debris. Then use a soft brush attachment and vacuum the floor. Make sure to get the corners well because dust and pet hair tends to accumulate. Then use a laminate floor cleaner to clean the floor. This cleaner can be purchased at most home improvement stores. After you use the cleaner dampen a sponge mop and run it over the area where the floor cleaner is. Make sure to go with the grain of the wood with smooth even strokes. Afterwards, you should rinse off the mop in clean water. Finally, you should be able to let the floor air dry, unless the floor cleaner says otherwise.

Next, we have some quick tips on floor stain removals. If you have a grease stain, an easy tip is to apply an ice pack to the area and allow the grease to harden. Then gently scrape off the stain with a knife or spoon. Any remaining residue can be wiped away with window cleaner. Crayon marks can be cleaned off with mineral spirits or toothpaste. Heel marks and scuffs can be rubbed away using a pencil eraser or Mr. Clean magic eraser. The last stain removal tip is for liquor. This can be cleaned off using a damp cloth of warm water and detergent. Simply rub the area until the stain disappears.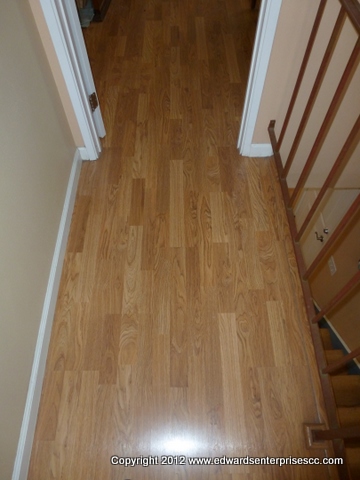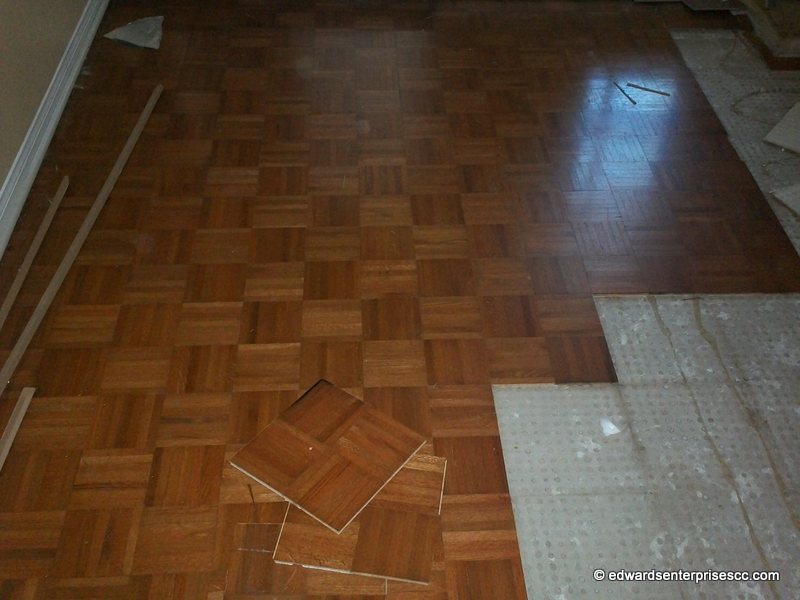 Los Angeles (West) is a great place to live because…
the Median Housing Value is $ 553,900 (23% higher than other California cities)
the average Summer Temperature is 71 degrees
the Student to Teacher Ratio is 20:1
local amenities are readily available and accessible
Overall, Los Angeles offers its residents plenty of local amenities, sunny weather, a stable housing market, and a high income per capita.

For more information about Los Angeles, visit AreaVibes.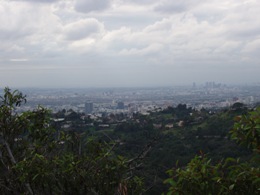 Reviews of Edward's Enterprises from recent customer surveys
"The flooring turned out great--my wife is in love with it. It was a much needed upgrade and we are both very happy with how courteous and pleasant Edward's technicians were in our home!"
Steve B.; Thousand Oaks