Complete Redwood & Cedar Fence or Gate Repairs & Replacements including:
+ Wooden fencing repairs
+ Wood gate repair
+ Dryrot damaged fence replacement
+ Sagging gates adjusted
+ Wooden fences painting, clear coating, staining & sealing finishing services



We can also help you with the installation of brand new:
+ Redwood & Cedar fencing
+ Single & Double wood gate repair
+ Redwood privacy lattice toppers
+ 1X6 & 1X8 cedar or redwood dog-ear picket fencing
+ Prefab redwood fence panels from big box stores
+ Wooden fencing mounted on round steel posts
Painting wrought iron gates
contact us at
805-987-2441

to setup an appointment for your fencing or gate repair project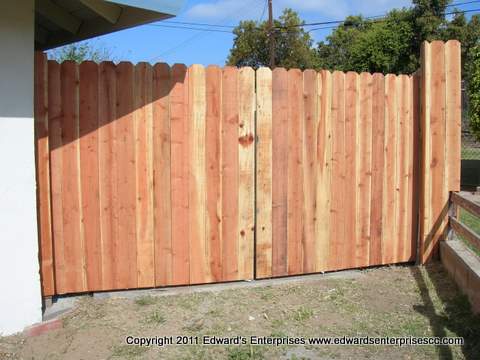 we perform a variety of gate repairs & fencing projects
Edward's Enterprises Wood Fencing & Gate Repair Service, where we help homeowners to by completing their next fence installation or wooden gate repair. Our many years repairing fences & installing new wood gates in the home improvement industry gives us the know-how to fix a rubbing side yard gate repair or handle a full-sized fence replacement complete with steel posts & pressure treated stringers. Keeping your property looking pristine while feeling secure ahs never been easier. Our wooden fence replacement services can help you increase the value & beauty of your home!

From small repairs like a leaning section to larger projects like installing 10 new redwood pre-fab panels on treated 4X4 posts, having an established general contractor handle your fence repair and gate installations is important .Simple upkeep can be the most cost effective way to maintain the value of your property's fences.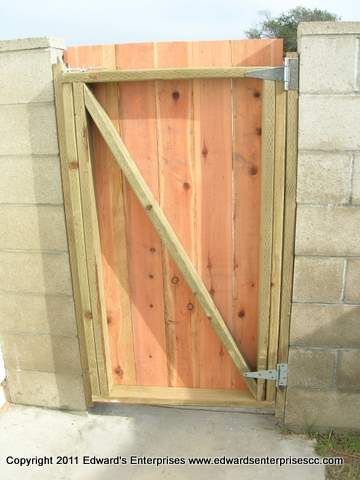 Discover the ways we can help with your next fence installation project!

Edward's Enterprises
General Contractor License B 857752, Insured
Standard fence & gate hourly repair rates we charge
Starts at $149 for the first hour (each trip, 2 employees)*

$99 an hour after that (2 employees)*
These are the typical cash or check hourly rates for labor we charge our customers for wood gate & fence replacements & repairs (not including materials). Our repairs & installations are charged on a time & material basis. That includes all of the time for your project, as well as sourcing materials if they are needed.
Many home fencing & gating projects are too large for 1 employee to handle, so we send 2 of our employees to your home for the above rates.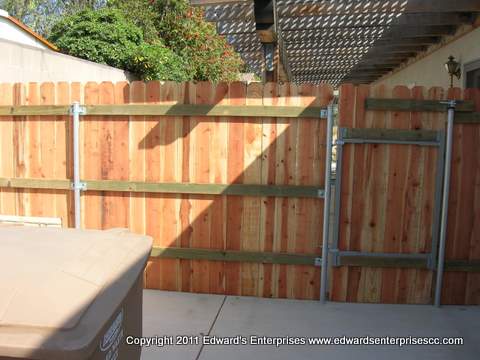 *The first hour of work ranges from $149 to $199 depending on the zip code of your property. Exclusions may apply, like for same-day, after hours or weekend service, or for commercial companies that are billable. Cities outside of our typical coverage map may have additional travel charges. Please contact us with any of your pricing questions, we would be happy to discuss our billing policies with you.
a few reasons to hire us for wooden fencing & gate repairs
Since 1996, Edward's Enterprises has repairing gates & wooden fences for many satisfied customers.

Licensed since 2005 with the Contractor's State License Board (B 857752).

Fully Insured to protect our picket fence project customers & employees.

We have the TOOLS to complete most wooden fence post, panel & gate hourly repairs.

Hourly fence & gate installation are completed by our experienced staff in the field & office.
Review from a recent customer survey:
"The fence job turned out great, we're all very satisfied. I have a few other projects in mind, so I will definitely call & recommend you!"
Marco R.; Summerland, CA
Contact us when you need a wood gate installed or repaired


If you have a wood fence to be built or dry rot damage to be repaired, Call us first!


Appointments for our redwood & cedar fence builders service now available.
Receive our latest discounts & offers to your email by simply filling out our contact form!
Looking for a responsive fence company? Projects like repairing Gates or Leaning Fences can be scheduled for a variety of days & times
We are in the field daily Monday through Friday 7:00 am - 4:00 pm based on need.


AFTER HOURS, Weekend & Emergency rates are available to assist our fence customer's scheduling needs.


We are open Saturdays by appointment, call for details.


Wooden Fence & Gate Repair City Coverage List
Wood Gates Ventura County
Casa Conejo
Casitas Springs
El Rio
Faria Beach
La Conchita
Lake Sherwood
Leisure Village
Meiners Oaks
Mira Monte
Missions Oaks
Oak View
Piru
Santa Rosa Valley
Santa Susana
Saticoy
Fence Repair Los Angeles County
Arleta
Bel Air
Hidden Hills
** Select Zip Codes **
Marina Del Rey
Newhall
North Hills
Pacific Palisades
Panorama City
San Fernando Valley
Topanga
Venice Beach
Fencing Replaced Santa Barbara County
Coast Village
Goleta
Summerland
Is your community missing from our list?
We don't do vinyl fencing installs or chain link fence installations, but we may still be able to fix your cedar wood gate or leaning redwood fence with an additional travel charge.
We know there are a lot of fence companies to choose from, & we appreciate you considering our company for your project. We also offer our customers additional carpentry services such as: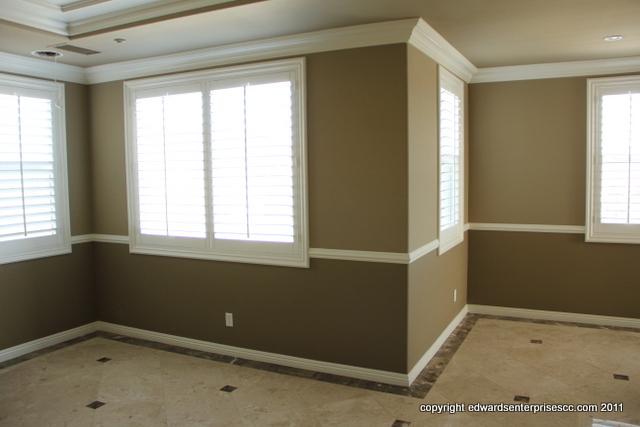 Is Redwood or Cedar a good choice for your fence project?
Sometimes the answer to this question depends on how much stock of either the company you are purchasing has on hand. But what, if any, is the real difference between the two when discussing fencing in particular? For this discussion we are focusing on the pickets themselves, as opposed to the post or stringer as we typically install metal posts with treated 2X3 stringers or treated 4X4 posts with treated 2X4 stringers.
- Cedar has (common) Redwood beat in the price category, but not by much depending on where you live or where you are buying.
- Cedar is a light yellow wood while Redwood typically has an earthier brown/red tone, & each will definitely give you a certain look if you are planning on leaving it raw.
- If you are painting or staining the wood fence after installation Cedar may be the better choice over Redwood because of the price difference.
- As for strength & durability, if we use the Janka hardness test Redwood is the clear winner, but unless you are using your fence to catch errant foul balls Cedar (for pickets) should be more than satisfactory.
- While most fencing contractors will recommend redwood to prevent termite damage, Cedar & Redwood contain tannin, which is a natural insect repellant, but Redwood contains more & may outlast Cedar in a head to head race to rot.
As you can see the differences between the 2 types of picket are not so large & the choice will often come down to general appearance goals & price!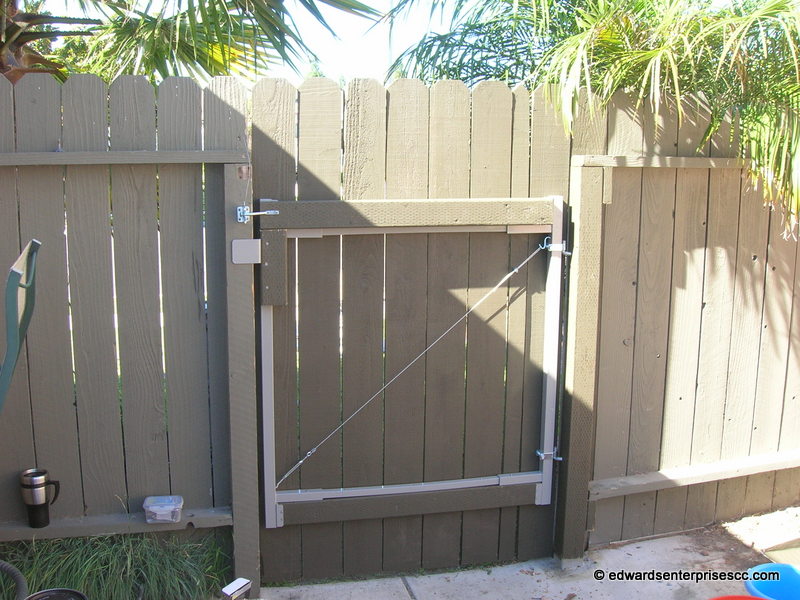 Great Tips for Fencing Projects
Don't find out the hard way why maintenance on fences is key! A few hours 2-3 times a year could be the difference between wood fencing that last for 20-30 years or a fence that needs to be replaced too soon.
- Every 3-6 months you should check your fence for peeling, splintering, mold or breakage, especially at the base of posts & pickets, & the tops of stringers where water can pool or collect.
If you have a vinyl fence summers can dry out & create brittle components like caps that need to be inspected.
- Also look for signs of termite damage & infestation. If you find signs of termites, then you may want to consider spot treatment by an exterminator, especially if the fence is attached to your home, as you may have a larger undiscovered issue.
- Next, depending on the style of wood & fence, you may want to sand off rough edges or protruding splits, these can provide an entry point for wood destroying insects or dry rot fungus

The next few procedures may take a bit longer; however, they only need to be preformed every year or two. Painted fences may start to look old when they start peeling & become flaky & chipped, & the loss of the paint's protection will lead to weathering & insect entry more readily. Scraping, painting & sealing can lengthen the life of your fence. First, scrape away flakes & chips before painting. Then use a primer & an outdoors paint to paint the fence. Afterwards, or instead of painting if you prefer a natural look, you may want to seal the fence with a clear or transparent product to help preserve it.