Bathroom shower repairs & installs
Plastic Surround & Pan Installation & Repair
Faucet & Spray Head Installation & Repair
Caulking Repair, Removal, &/or Re-caulking
Tile & Grout Installation & Repair
Ventilation Repair & Installation
Complete Bathroom Remodels
Bathtub Plumbing Conversions
Drain Flange Replacement
Water Valve Replacement
Shower Handle Removal
Enclosure Removal
Drain Snaking
contact us at
805-987-2441

to discuss your shower repair project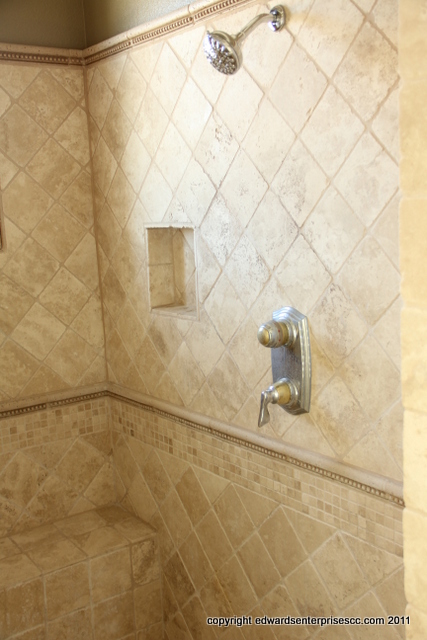 we can handle many types repairs
Shower surrounds come in different types & brands, just like the companies you can hire for your home or office.

Edward's Enterprises shower repairs & replacements has been delivering the everyday handyman & plumbing repairs needed in our customer's homes & businesses since 1996. Our many years in the home & commercial repair & improvement trade give us the perspective & know-how critical to carrying out projects of any size; from a simple shower handle replacement repair to regrouting a shower surround & replacing the whole shower stall assembly.

Maybe your corner shower door just needs an adjustment or new caulking to reach it's full potential! Is your bathroom shower installed properly to give you the bathing experience you deserve? Don't wait to find out, today is the day to schedule that visit!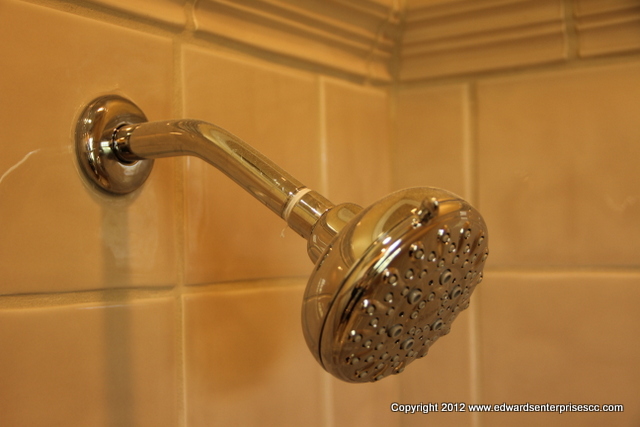 How can we help you with your next Shower installation or repair service call?

-Edward Flanagan, Owner
General & Plumbing Contractor License B 857752, Insured
Typical rates we charge for Shower Repair, Replacement & Installation
Starting at $89 for the 1st hour for each trip for one employee*

$59 each hour after for one employee*
These are the typical cash or check hourly rates for labor we charge our customers for small shower enclosure fixes (not including materials). Our shower repairs & installations are charged on a time & material basis. That includes all of the time for your project, including sourcing materials if they are needed.
If a customer wanted to replace their whole shower or surround, this would be too cumbersome for 1 employee to handle, so we would send 2 of our employees to your home at higher rates than stated above.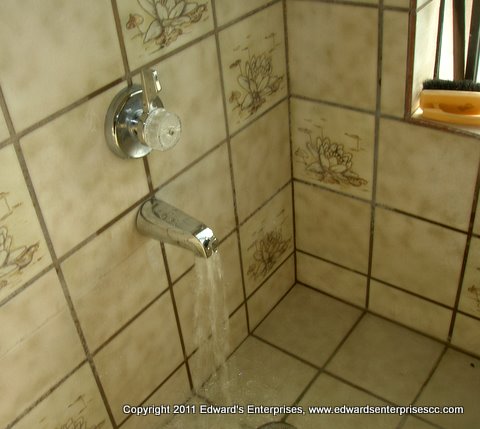 *The first hour of work ranges from $89 to $119 depending on the zip code of your property. Some exclusions may apply, like commercial companies that are billable, or for same-day, after hours or weekend service. Communities outside of our normal service area will be charged additional travel costs. We would be happy to answer any of your pricing questions, please call for details!
some reasons to hire us for your next shower plastic surround swap out
Edward's Enterprises Shower Repair, Replacement & Installation service is locally owned SINCE 1996.

LICENSED (B 857752) GENERAL & PLUMBING CONTRACTOR with the Contractor's State License Board since 2005.

INSURED: LIABILITY, WORKERS COMPENSATION, & AUTO to protect our customers & employees.

We have the TOOLS to complete most bathroom repair jobs.

Our Shower Repair, Replacement & Installation appointments are provided by our EXPERIENCED, LONG TERM EMPLOYEES in the field & in the office.
Review from a recent customer survey:
"The technicians did a good job & finished in a timely manner!"
Larry B.; North Hills, CA
It is easy to contact us when you notice a drip or leak


If you have been experiencing reduced water draining from your shower or noticed a trickle of water coming from the sprayer even when it should be turned off, Call us first!


Our friendly employees will answer your shower repair questions & help determine how we can meet your fix-it schedule.
Receive our latest discounts & offers to your email by simply filling out our contact form!
Shower repairs can be scheduled for a variety of days & times:
We are in the field daily Monday through Friday 7:00 am - 4:00 pm.


AFTER HOURS, EMERGENCY & WEEKEND rates are available to meet our customer's needs.


We are open Saturdays by appointment, call for details.


Shower Repair City Coverage List
Ventura County
Casa Conejo
Casitas Springs
El Rio
Faria Beach
La Conchita
Lake Sherwood
Leisure Village
Meiners Oaks
Mira Monte
Missions Oaks
Oak View
Piru
Santa Rosa Valley
Santa Susana
Saticoy
Somis
Los Angeles County
Arleta
Bel Air
Hidden Hills
** Select Zip Codes **
Marina Del Rey
Newhall
North Hills
Pacific Palisades
Panorama City
San Fernando Valley
Topanga
Venice Beach
Santa Barbara County
Coast Village
Goleta
Summerland
Don't See Your City?
We may be able to service your community with an additional travel charge.
Edward's Enterprises offers its customers additional plumbing services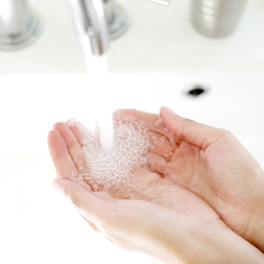 Did You Know?
New water fixtures to replace current shower heads & faucets can be installed to replace old worn out fixtures. Products such as low flow, high power, massage, handheld, rain, & jet shower heads can be put in to add some character to your shower.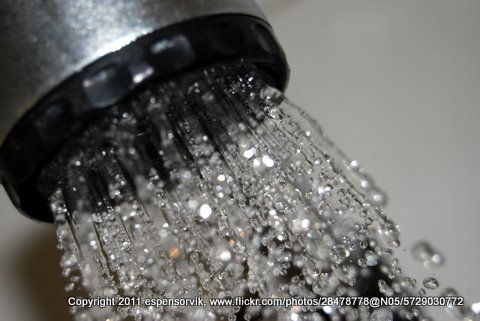 Prevent shower mildew from forming with these cleaning tips
First, leave your shower door open after your showers to allow air to circulate & dry the walls. Using a fan during & after your showers will help to dry out the bathroom. Lastly, if your bathroom has windows, a little bit of sunlight helps to discourage mildew.

One way to help keep your shower clean, is to keep a squeegee in your shower. After you have showered, simply squeegee your shower walls & glass shower door. This will help keep your shower pleasant & cut down on having to scrub when it's time to formally clean your shower.

One precaution is to never use steel wool pads in your shower, or even harsh plastic scrubbing pads or brushes on a plastic tub. These can leave scratches, which would gather water, dirt & mold.

Another warning is to avoid mixing household chemicals, especially bleach & ammonia. If you need to use multiple products to clean, then rinse very thoroughly & allow plenty of time in between each use.

A fun fact is that dryer sheets work very well for cleaning soap scum off of shower glass. To prevent streaks, the trick is to use a squeegee. Another quick tip is to use Mr. Clean magic eraser because the eraser works awesomely when it comes to cleaning scum off of the actual shower.