Stucco Patched & Repaired
Small stucco repairs
Minor stucco patches
Stucco crack repairs
Small area stucco scraping & removal to access plumbing, electrical or mechanical
Damaged stucco corners repaired
Paper, mesh & stucco around new electrical panels
Paper, mesh & stucco around new windows
Paper, mesh & stucco around new front doors
Paper, mesh & stucco around new sliding glass doors
Minor stucco texture refinishing & touch-up
call
805-987-2441

to schedule your next stucco repair project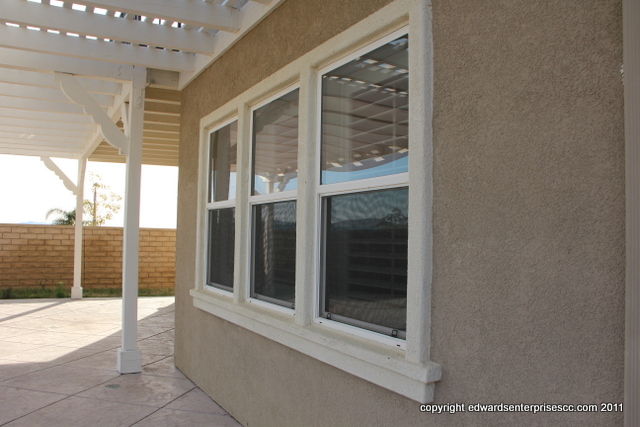 we can handle many types of exterior wall repair projects
Durable, attractive, & weather-resistant, stucco works to keep a home looking great year after year, especially in our Southern California climate. Resistant to termites, without the concern of peeling paint from wood or cementious siding, & coming in several finish options it is a very versatile building material & popular with tract home builders as well as custom homes & additions. Even homes that are built with siding, stone, or other front facing materials often have stucco on the sides & rear for durability & to control cost. Stucco can also be colored to one's desire.

Depending on the surface, applying stucco can be a time consuming task, & often when a small repair comes up larger installers are too busy to handle the call, or just aren't setup to handle a couple hour job. That is where we step in. After having difficulty finding small stucco repair & patch companies for several projects we were doing, we realized we needed to develop that skill internally & offer that service to the broader community. We now do stucco patching for sprinkler damaged stucco, vehicle damaged garage stucco, stucco replacement around windows & doors, & stucco installation around new electrical panels for upgrades & solar installations. Offering an hourly service we can help homeowners & other contractors with their stucco repair needs without the hassle of finding a company that specializes in whole homes (most of our stucco repairs are under $500.00)

If you see cracks, chips, flaking, chipping stucco on your home or office, or someone got a little sideways parking their 1963 black on black suicide door Lincoln Continental Convertible & scraped the stucco off of the side of the garage door, give us a call today & we can setup an appointment for you. If you need your whole home re-stuccoed, call us anyways & we can refer you to another contractor that can help you with that too!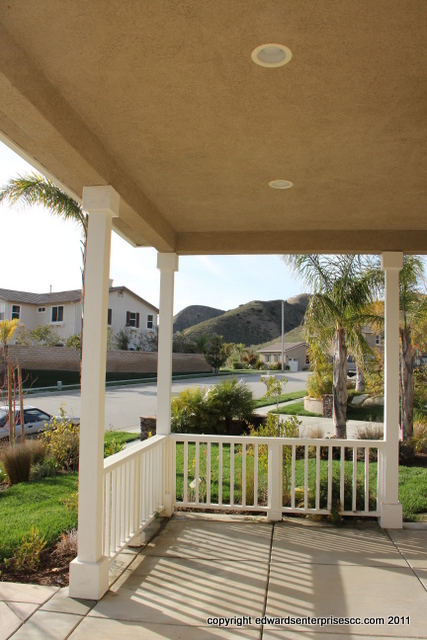 -Edward Flanagan, Owner
General Contractor License B 857752, Insured
Edward's Enterprises
General Contractor License B 857752, Insured

(And if you are looking to give away a mint condition 1963 black on black suicide door Lincoln Continental Convertible that has a light scrape on the door from your garage to an owner that will care for your car the way it should be taken care of, definitely call me, I'll be right over!)
A Look at the Typical rates we charge for small stucco patching service
From $89 for the 1st hour for each trip for one employee*

$59 each hour after for one employee*
These are the typical cash or check hourly rates for labor we charge our customers for stucco repairs (not including materials). Our services are charged on a time & material basis. That includes all of the time for your project, including sourcing materials if they are needed.
If a larger job or project required 2 workers due to schedule, reach (2 story homes) or customer or contractor preference based on scope, so we would send 2 or more of our employees to your home at higher rates than stated above.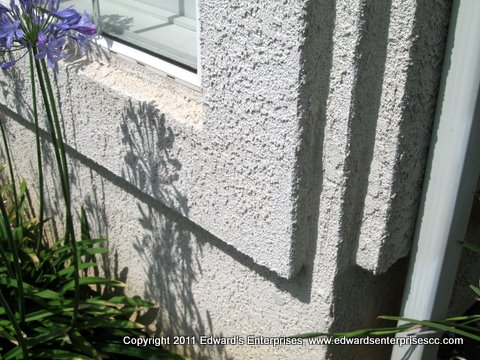 *The first hour of work ranges from $89 to $119 depending on the zip code of your property. Some exclusions do apply, like commercial companies that are billable, or for same-day, after hours or weekend service. Cities outside of our typical coverage map will be charged additional travel costs. We are happy to answer all of your stucco pricing questions, call for details!
reasons to call us for stucco services
Edward's Enterprises has been providing stucco patching & repairs to our customers nearly 10 years.

Licensed & Bonded since 2005 with the Contractor's State License Board (B 857752).

Insured to protect our valued customers & employees.

We have the tools & skills to complete most small stucco repairs & refinishes.

Our hourly stucco repairs are completed by our qualified staff in the field & in the office.
Review from a recent customer survey:
"Your worker (I believe his name was Michael) arrived on time, was professional, went to work immediately after surveying the job. He was quick & completed the job to my satisfaction. I will use your services again. Thank you, very much. "
Liz M..; Canyon Country, CA
It is easy to contact Edward's Enterprises when you need a wall patch fixed


If you have faded exterior stucco, direct sunlight is typically the culprit. Flaking & peeling are usually a result of moisture damage, & sprinklers are the culprit almost every time. Make this an opportunity to re-do the paint & add some style to your residence! Go on & choose a color that you really like; the results will definitely show.


Appointments for our stucco texture repair services now available.
Receive our latest discounts & offers to your email by simply filling out our contact form!
Stucco repair services can be scheduled for a variety of days & times
We are typically open Monday through Friday 7:00 am - 4:00 pm.


Weekend, After Hours & Emergency rates are available to assist our drywall patch & repair customer's.


We are open Saturdays by appointment, call for details.


Cities we handle small stucco repair projects in:
Ventura County
Casa Conejo
Casitas Springs
El Rio
Faria Beach
La Conchita
Lake Sherwood
Leisure Village
Meiners Oaks
Mira Monte
Missions Oaks
Oak View
Piru
Santa Rosa Valley
Santa Susana
Saticoy
Los Angeles County
Arleta
Bel Air
Hidden Hills
* Certain Zip Codes *
Marina Del Rey
Newhall
North Hills
Pacific Palisades
Panorama City
San Fernando Valley
Topanga
Venice Beach
Santa Barbara County
Coast Village
Goleta
Summerland
Didn't See Your Community Listed Above?
We may be able to handle your stucco patch project with an additional travel charge.
Edward's Enterprises offers its customers additional patch & paint services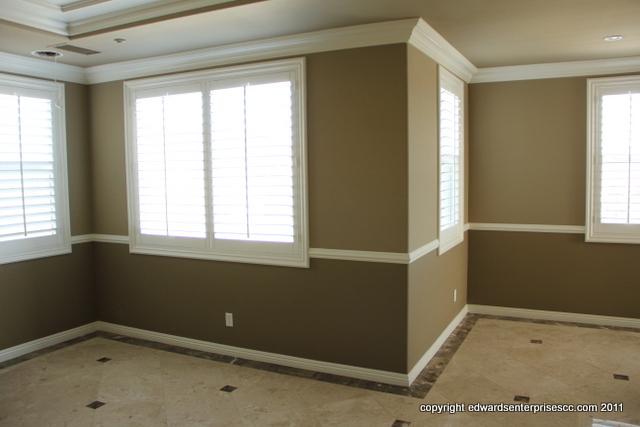 What is stucco made of?
- Stucco, as known in Southern California, is composed of portland cement, lime & sand. It has included asbestos, horse or ox hair, marble dust, & glue throughout the history of Stucco use dating back to the times of Ancient Greece & Rome. Current common cement stucco, as a cementious product, is mold & mildew resistant, & should not rot or flake apart if kept from contact with a constant water source, such as landscape sprinklers.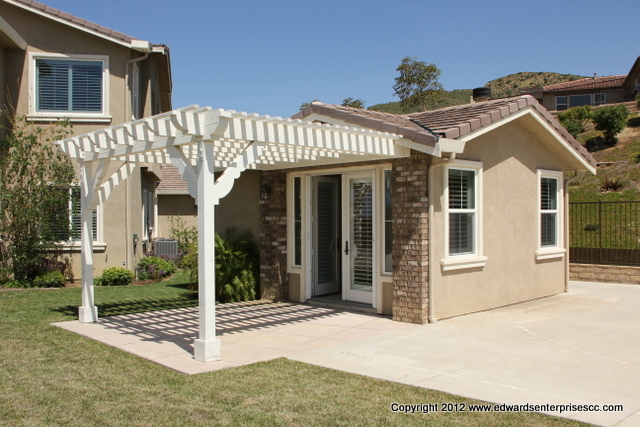 Great Tips for Stucco Preservation
* The most common type of damage for stucco is water. Water is the enemy when it comes to stucco. Most deterioration & infrastructure damage is caused by water infiltration. Most often the damage occurs through the roof, around chimneys, windows, door openings & excessive ground water. Water infiltration will cause wood lath to rot & metal lath & nails to rust, which will eventually lead to the stucco losing its bond & pulling away from its substrate. One way to reduce the risk of water damage is to try & keep excess water away from the stucco. This can be done by redirecting water run off, improving drainage & fixing any repairs.

* It is important that a home owner inspect their home & stucco regularly. They should look around to ensure that water has not entered the walls & that no mold or bugs are present. Regular inspections will help to maintain the home & that way no surprises sneak up on you.