Interior & Exterior Prepping & Painting including:
- Flat or Eggshell in interior hallways, dining rooms, & living rooms
- Rearranging furniture & painting offices
- Accent walls in breakrooms
- Semi gloss painting in bathrooms & kitchens
- Walls & Ceilings in bedrooms
- Painting conference rooms (removing & rehanging TVs, Dry Erase Boards, Etc.)
- Sanding, priming & painting doors & jambs
- Pre-painting moulding before installing or changing color after installation



- Exterior Entryways
- Retaining & Dividing walls pressure washed & painted
- Patios, Decks & Fences repaired & painted
- House Trim & Fascia
- Under Eaves sanded, primed & painted
Removing peeling & old paint
Whole house color changes
ring us at
805-987-2441

to schedule a painting touch up service call today
we perform a variety of remodeling & painting
It takes some effort to make a home or office stand out & maintain a clean look. Inside or outside, areas that need painting (or repainting) may need special paint preparation. You may choose a bright new color finish to paint an accent wall. You may want to emphasize certain areas, like the front porch or recreation room, with a bright or fun color scheme. Give your home or business an individual look & feel today.

Is your residence or business in need of a new coat of paint? Edward's Enterprises remodel contractor & painting services will prep, texture & paint it to quality satisfaction.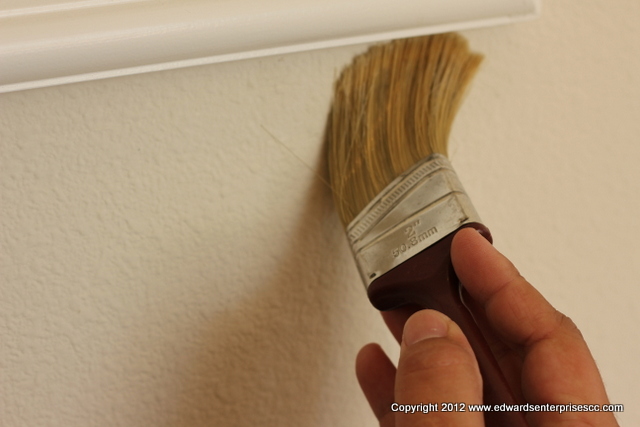 Discover the ways we can help with your next Home & Office Interior & Exterior Prepping & Painting project!

Edward's Enterprises
General Contractor License B 857752, Insured
A Look at the Typical rates we charge for our touch up paint services
From $89 for the 1st hour for each trip for one employee*

$59 each hour after for one employee*
These are the typical cash or check hourly rates for labor we charge our customers for our painting & prepping services. Our services are charged on a time & material basis. That includes all of the time for your painting project, including sourcing materials if they are needed.
If a larger job or project required 2 workers due to schedule, reach (2 story homes) or customer or contractor preference based on scope, so we would send 2 or more of our employees to your home at higher rates than stated above.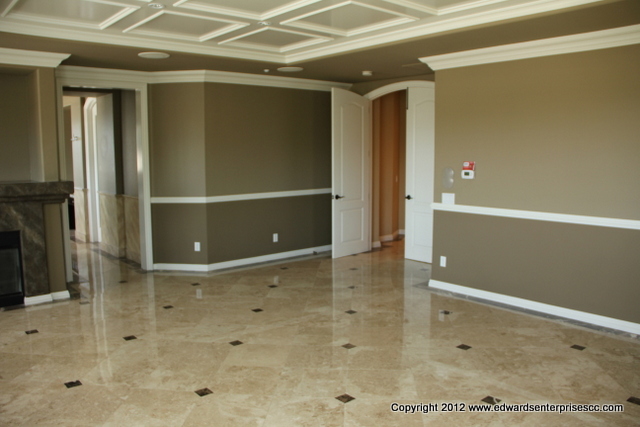 *The first hour of work ranges from $89 to $119 depending on the zip code of your property. Some exclusions do apply, like commercial companies that are billable, or for same-day, after hours or weekend service. Cities outside of our typical coverage map will be charged additional travel costs. Please contact us with any of your pricing questions, we would be happy to discuss our billing policies with you.
a few reasons to call us for fresh look finishing services
Edward's Enterprises has been providing prep, priming & painting to commercial & residential customers since 1996.

Licensed & Bonded General Contractor since 2005 with the Contractor's State License Board (B 857752).

Fully Insured to protect our valued customers & employees.

We have the tools & skills to complete most home, office & shopping center hourly patch or paint service calls.

Painting projects are completed by our staff in the field & in the office.
Review from a recent customer survey:
"My husband & I loved the end result. The techs were so professional & careful; I will definitely recommend Edward's Enterprises to my friends!"
Robin H.; Lake Sherwood, CA
It is easy to contact Edward's Enterprises when you need a fresh coat of paint


Edward's Enterprises remodel contractor & painting handyman will prep, texture & paint your property inside & out, giving you a brand new fresh look!


Appointments for our re-painting services now available.
Receive our latest discounts & offers to your email by simply filling out our contact form!
Projects can be scheduled for a variety of days & times
We are typically open Monday through Friday 7:00 am - 4:00 pm.


Weekend, After Hours & Emergency rates are available to assist our painting customer's.


We are open Saturdays by appointment, call for details.


City Coverage List For Wall Prep & Painting Services
Ventura County
Casa Conejo
Casitas Springs
El Rio
Faria Beach
La Conchita
Lake Sherwood
Leisure Village
Meiners Oaks
Mira Monte
Missions Oaks
Oak View
Piru
Santa Rosa Valley
Santa Susana
Saticoy
Los Angeles County
Arleta
Bel Air
Hidden Hills
** Select Zip Codes **
Marina Del Rey
Newhall
North Hills
Pacific Palisades
Panorama City
San Fernando Valley
Topanga
Venice Beach
Santa Barbara County
Coast Village
Goleta
Summerland
Didn't See Your Community?
We may be able to handle your re-painting project in your community with an additional travel charge.
Edward's Enterprises offers its customers additional patch & paint services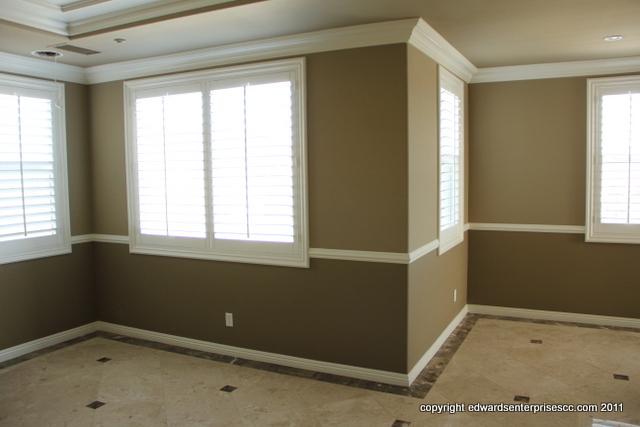 What is the best paint for wrought iron?
Rust-Oleum brand paints recommends their Rust-Oleum Stops Rust line of products, including metal primers, spray paint for small touch up areas & roll on paint in quarts & gallons for larger projects.

Dunn Edwards recommends Enduragloss (comes in gloss only & in quarts only) after applying a metal primer.

Sherwin Williams recommends Pearl Industrial DTM (Direct to Metal) along with a primer & topcoat.

Benjamin Moore has a Corotech line that comes in semi-gloss & gloss & is an oil base. This can be applied after a rust inhibiting primer for best adhesion.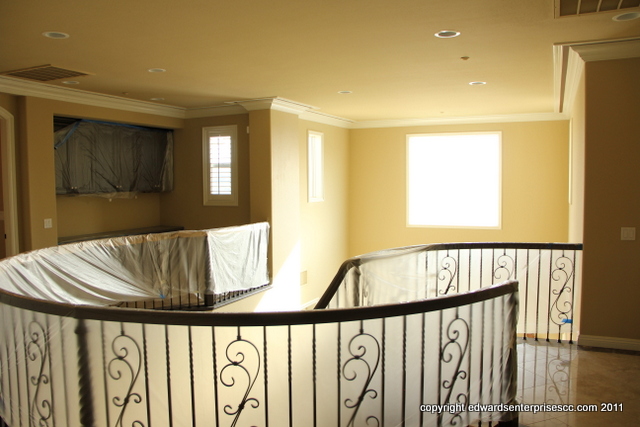 Great Tips for Painting Projects
*When it comes to painting, the first step is preparation. Some suggestions include to remove the furniture from the room so that it does not get in the way, as well as, does not accidently get paint on it. If you are unable to remove the furniture you can cluster it into one corner & cover it.
*Next, vacuum the room to create a clean work area. Then cover the floor with drop cloths so that no paint ruins the floor. Also, take down any draperies or drapery hardware, & loosen light fixtures & wrap plastic bags around them. Lastly, remove any wall plates from electrical outlets & switches.

*The next step is choosing the right type of paint for the job. Matte Finishes are also called a flat finish or wall paint, & are used for interior walls. This finish does not reflect light & may need to be touched up if scratches or marks occur. Flat Enamel is paint with a durable flat, matte finish.
*This paint works well in powder rooms & halls. An eggshell finish has a slight hint of shine or gloss & is good for walls & holds up well. A satin finish works well for windows, doors, trims & ceilings. It is made to hold up to cleaning & light scrubbing. A semi-gloss is often used on doors, trims, & cabinets. It is easily cleaned & has a subtle shine.