Complete Electrical Ceiling Fan Replacement Services
Electrical Repairs at fan to ceiling connection
Switches, dimmers, & remotes installed
Fan boxes replaced
Fan pull chains replaced
Assembly, bracing, & re-positioning of ceiling fans
Lamp bulbs replaced
Fan Light Kits replaced, removed & installed
Remotes wired-in
Removal & take-down of older models
call
805-987-2441

to schedule a ceiling fan install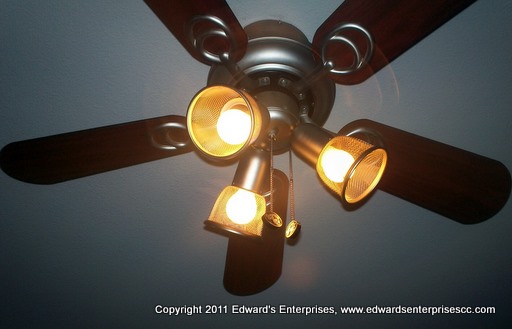 we can handle many types of hourly ceiling fan service calls
Get to know Edward's Enterprises Ceiling Fan Service, where we work with homeowners to invest in their homes & businesses by completing their next electrical improvements.

We install, remove, repair, & replace ceiling fans including Hampton Bay, Hunter, Casablanca & more. We can install a fan rated box (a must-have) for an existing fan that is wobbly, or install a new updated fan where an old, out-of date fan is currently in place. We can add remote controls (in most situations) or replace wall switches with dimmers or fan speed controls. We typically have lower minimums than other ceiling fan service companies & are locally owned & operated. Don't wait to find out if your home & office need immediate electrical repairs, today is the day to schedule a repairs visit!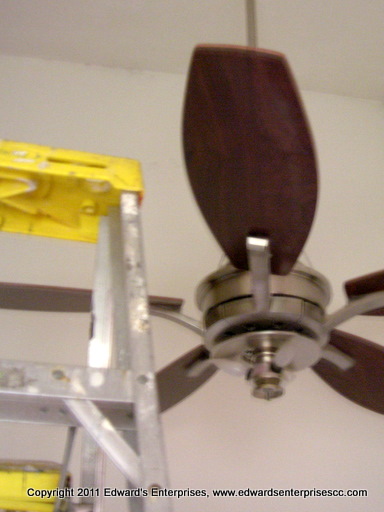 How can we help you with your next ceiling fan repair?

-Edward Flanagan, Owner
General Contractor License B 857752, Insured
Typical rates we charge for fan repairs
From $89 for the 1st hour for each trip for one employee*

$59 each hour after for one employee*
These are the typical cash or check hourly rates for labor we charge our customers for ceiling fan replacements & repairs (not including materials). Our repairs & installations are charged on a time & material basis. That includes all of the time for your project, including sourcing materials if they are needed.
Some of these projects are too cumbersome or high for 1 employee to easily or safely handle, so we would send 2 of our employees to your home at rates higher than stated above.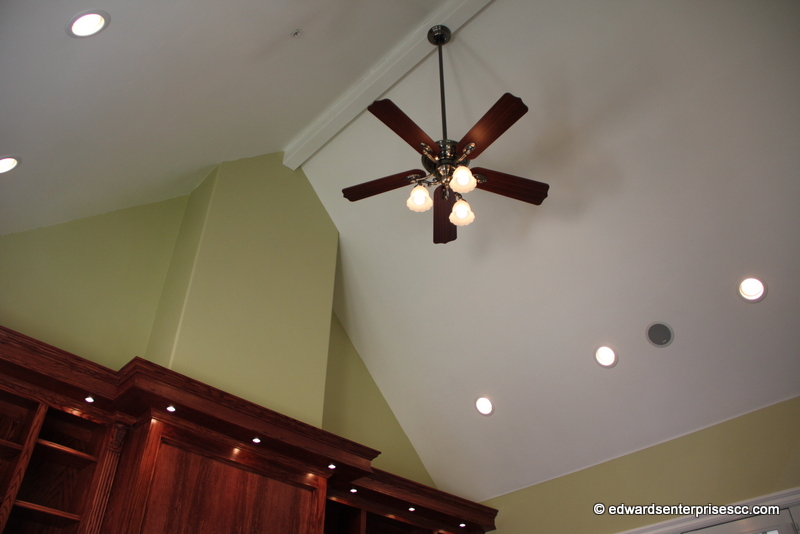 *The range for the first hour of work is from $89 to $119 depending on the work site zip code. Certain exclusions apply, like for same-day, after hours or weekend service, or for commercial companies that are billable. Cities outside of our typical ceiling fan repair coverage map will be charged additional travel costs. Please contact us with any of your pricing questions, we would be happy to discuss our billing policies with you.
some reasons to contact us for your next Ceiling Fan Installation
We have been locally owned SINCE 1996.

LICENSED (B 857752) GENERAL CONTRACTOR with the Contractor's State License Board since 2005.

INSURED: LIABILITY, WORKERS COMPENSATION, & AUTO to protect our customers & employees.

We have the TOOLS to complete most ceiling fan install jobs.

Ceiling fan repair appointments are completed by our EXPERIENCED, LONG TERM EMPLOYEES in the field & in the office.
Review from a recent customer survey:
"I would definitely recommend Edward's Enterprises to my friends should they be considering a construction project of ANY size. From trouble shooting & intermittent electrical problem, paintings, to planning a complete face lift to the facade of my home. I have never experienced such flexibility, availability, & desire to get it right!"
Ellita P.; Somis, CA
Drop us a line or give us a call, it's easy to ask us about your ceiling fan project


If your home or office has a wobbly ceiling fan or a brand new model installed, Call us first!


Appointments for our ceiling fan services now available.
Receive our latest discounts & offers to your email by simply filling out our contact form!
Service calls for fan repairs can be scheduled for a variety of days & times
We are typically open Monday through Friday 7:00 am - 4:00 pm.


Weekend, After Hours & Emergency rates are available to assist our customer's.


We are open Saturdays by appointment, call for details.


Ceiling Fan Installation City Coverage List
Ventura County
Casa Conejo
Casitas Springs
El Rio
Faria Beach
La Conchita
Lake Sherwood
Leisure Village
Meiners Oaks
Mira Monte
Missions Oaks
Oak View
Piru
Santa Rosa Valley
Santa Susana
Saticoy
Somis
Los Angeles County
Arleta
Bel Air
Hidden Hills
** Select Zip Codes **
Marina Del Rey
Newhall
North Hills
Pacific Palisades
Panorama City
San Fernando Valley
Topanga
Venice Beach
Santa Barbara County
Coast Village
Goleta
Summerland
Is your city missing from our list above?
We may be able to service your community with an additional travel charge.
We offer our customers additional electrical repairs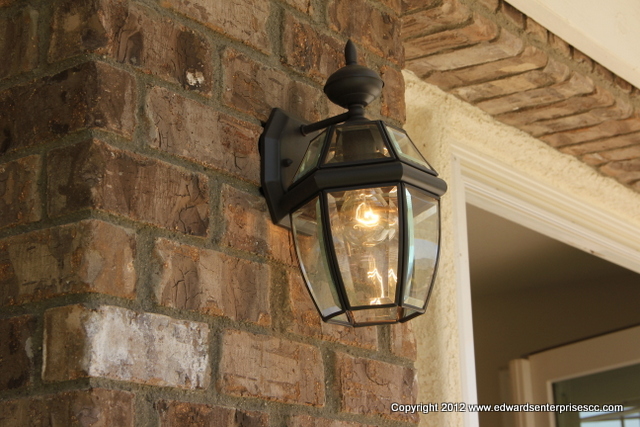 How much a ceiling fan can save you?
* Ceiling fans save up to 40% on energy costs by cooling or heating a room versus adjusting a thermostat. A cost effective appliance can serve as a decorative piece & lighting fixture, all at once, saving you real $.
* Fans can be purchased that do more than just circulate air. Some have cooling & "heating" systems built in for those varying weather conditions, while others reverse speed to create updrafts. Some even have built in audio systems!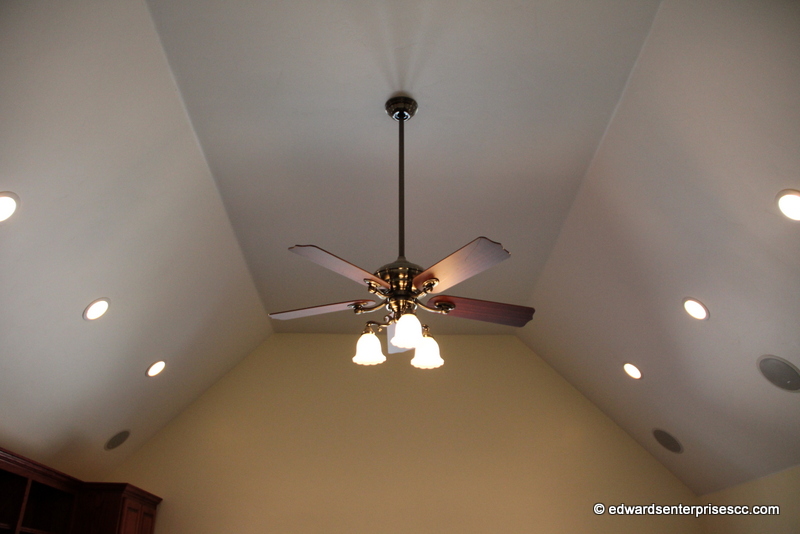 Great Tips for Cleaning Ceiling Fans
Cleaning Ceiling Fans may not seem like the most glamorous chore, but with these quick & easy tips, it can turn a dreaded chore into the easiest one, taking a mere 15 minutes.
First off, tape down the fan's switch to ensure that it does not accidently turn on during the cleaning. Second, prepare the area around the fan by spreading old sheets on the floor & any furniture near the fan. Third, fill a spray bottle with a mixture of water & 2 tablespoons of distilled white vinegar. Use this mixture & spray it inside of an old pillowcase. Next, stand on an extra tall ladder so that you are about a head above the fan. Then slide the pillowcase over an individual blade, pulling the dust off the blade & trapping it into the bag. Do this for each blade while rotating clean spots on the pillow case. Finally, use a cotton clothe for residual grime & to dust off the base & light fixtures.